Exclusive Member Benefits
Join Melbourne Royal. There's extraordinary member value and privileges on show for you to experience.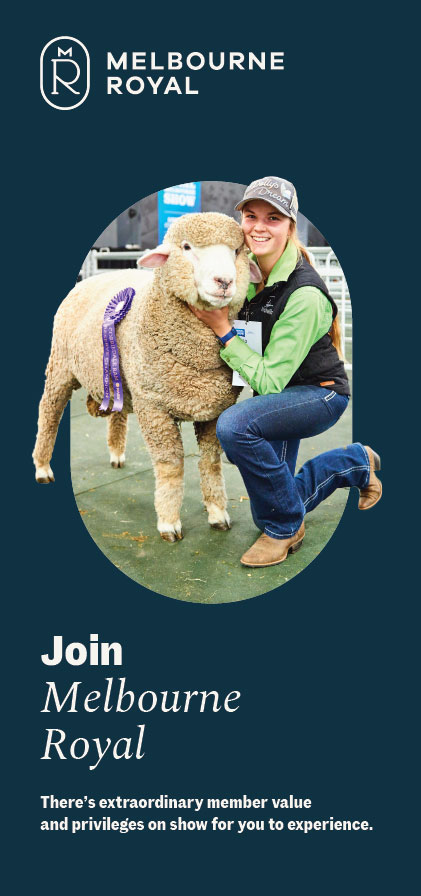 Experience the value of Melbourne Royal membership
As a valued Melbourne Royal member you will enjoy complimentary admission for you and a guest* to the 2022 Melbourne Royal Show including discounted car parking*, access to Members' dining and hospitality areas and much more. In addition, full members can save up to 55 per cent on their entry fees for agricultural and other Melbourne Royal competitions.  
In 2022 we are elevating our hospitality and dining options for members. The Members' Dining Room will be located in the Port Phillip room that overlooks the arena and will offer great value a la carte meals for you to entertain family and friends. 
Melbourne Royal membership provides a great-value way to experience the Melbourne Royal Show and other Melbourne Royal competitions and programs with your family and friends. Make sure you share this opportunity with your family, friends and colleagues so that they can reap the benefits of a Melbourne Royal membership. 
Membership of Melbourne Royal is from 1 April 2022 to 31 March 2023, with various packages to suit individual needs.
Membership categories
There's a number of great value membership categories available, the most popular and best value being Full Membership.
Download the brochure to learn more.
Join today
Visit my.melbourneroyal.com.au/memberships to join. There's never been a better time to become a member.
*Full and restricted members only
Further information
Can I receive Reciprocal rights at the 2022 Sydney Royal Easter Show?
Due to the cap on the daily crowd capacity, the Royal Agricultural Society of New South Wales is unable to offer reciprocal rights to interstate members who plan on attending the 2022 Sydney Royal Easter Show, commencing on 8 April. Members of the Melbourne Royal who plan on attending the event will need to purchase either an RASNSW membership or a daily admission ticket to secure their admission.
For more information regarding membership please contact Melbourne Royal on 03 9281 7444.