2017 Best in Show Winner, Guy Spagnolo shares his story
22 Mar 2018 / Melbourne Royal Competitions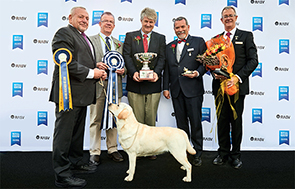 Guy Spagnolo of Driftway Kennels, NSW, has a long history of association with the Royal Melbourne Show. He has exhibited his Labrador Retrievers at this show since 1972, missing five years at the most. Over the years he has won many Best of Breed awards, and in more recent years, a number of higher awards. 2017 was an amazing year for him, winning his first Best in Show at the highly prestigious Royal Melbourne Show.
Guy's association with Labradors began in the early 1970's when he purchased a Labrador in Western Australia. Driftway was not his first choice of kennel prefix, and there was no real meaning behind it, albeit a name he liked, and about his tenth preference in the names he submitted, and the first on the list that was approved.
Guy's kennel was founded with a yellow bitch purchased from Anna Spanswick (then Molloy), and a black dog, Aust. Ch. Amansi Badri Singh, which Anna suggested he purchase (carrying bloodlines of Poolstead UK, together with Grenada, kennel of the late Graham Head and Wendover UK). The mix of these lines gave Driftway Kennels and Guy a very solid, typical base for his future breeding. Guy was lucky enough to lease from Anna an imported Ballyduff bitch which he mated to his black dog, producing Aust. Ch. Driftway Dusky Dreamer. This bitch was a great winner, being awarded Puppy in Show at the 1975 Sydney Royal, and Best in Group at the 1977 Sydney Royal. For Guy, these were fantastic wins with a homebred Labrador, winning amongst some outstanding dogs of the time.
Driftway Kennels, and the Labradors went on successfully from this early beginning, and Guy has managed to stamp a type into his Labradors. Early in his time as a breeder, Guy visited the home of the late Arthur Young of Larkana Kennels, an extremely successful Cocker Spaniel breeder, in Melbourne. Guy has always remembered that visit, even the street address! He was met by a kennel of Cockers who were all 'peas in a pod', enjoying many of the traits of typical Cocker Spaniels, and all being easily recognisable as from the Larkana Kennel. Arthur's words of advice were to stay with a family, and with the traits you see as important, and Guy has endeavoured to do this with his breeding program. The Driftway Labradors are not inbred, but bred reasonably tightly, and he has focused upon a style, and that has remained his goal.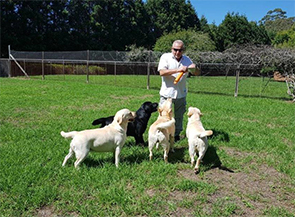 Guy bred for many years, and when needing an injection of new blood, found a very successful stud in the UK import Aust. Ch. Longley Speak Easy. This dog, owned by Betty and Barry Henry of Quaylbeau Kennels, carried a good deal of Sandylands lines, and has proven to be a great match with Aust. Ch. Driftway Dusky Dreamer, who was about 6 years old at the time, producing a very influential litter of six puppies, who all went on to success, and injected some new blood into the Driftway lines. In Guy's opinion, Aust. Ch. Longley Speak Easy had a particularly strong impact upon his breeding program.
When asked about conditioning, Guy cannot emphasize the importance of feeding and exercise. He says that preparation for big shows such as the Royal Melbourne Show, does not happen overnight. Guy does not like fat Labradors, and he will only exhibit his dogs if they are in peak condition. He says that luckily, the Royal Melbourne Show is usually a time that his Labradors are in perfect bloom. Feeding, swimming and the season affects coats. Guy is also lucky enough to live in 6.5 acres in Dural, NSW, and the Labradors enjoy running and exercising in large paddocks that are several acres in size. The swimming tops off the conditioning – which of course the Labradors love!

As well as conditioning, which is an ongoing program to keep the dogs in ideal shape, socialisation of young stock is extremely important. Guy explains that living in a relatively quiet area means that effort is needed to socialise puppies. Whilst they all love people, they need early experiences of a wide variety of noises and environments to ensure their development of strong temperaments. He takes time to bring the youngsters into the house, and to visit local schools and shops to enhance each young pup's experience as they develop into a possible "keeper" and future representative of Driftway Kennels.
Asking Guy about his highlights in the show ring, he talks particularly of three. His first Best in Group at Sydney Royal, under a Gundog Specialist, in 1977 with Aust. Ch. Driftway Dusky Dreamer was certainly a thrill. Secondly, winning Best in Show at the first Labrador Retriever National Show in 2000 was another great highlight. He has gone on to win 5 Nationals – a wonderful testament to his breeding program.
Guy's last highlight was the Royal Melbourne Show Best in Show win in 2017. As Guy says, winning the top award at such a prestigious show at which he has exhibited at over so many years, was a wonderful experience. This bitch, Aust. Ch. Driftway Time N Again, has enjoyed particular success at the Royal Melbourne Show, having won Best in Show - 3rd in 2015, and a Group Placement in 2016.
As for the future at Driftway? Guy says he still has the fire and passion of exhibiting and breeding in his heart, and still wants to produce even better Labradors. Sometimes, he says, his legs are his only hindrance in the ring! He hopes to continue to exhibit for many years, and also to produce good Labradors for other exhibitors, both here and overseas.