2018 Garryowen Equestrienne Turnout winner
01 Oct 2018 / Melbourne Royal Competitions
Rebecca Farrow wins 2018 Garryowen on Stage Presence
Rebecca Farrow won the prestigious 84th Garryowen Equestrienne Turnout riding former galloper Stage Presence (raced as Persistency), at the 2018 Royal Melbourne Show.
Conducted annually by The Royal Agricultural Society of Victoria (RASV) as part of the Horses in Action Program, 40 talented riders competed for the prestigious honour in front of a packed grandstand, at Melbourne Showgrounds Sunday 30 September.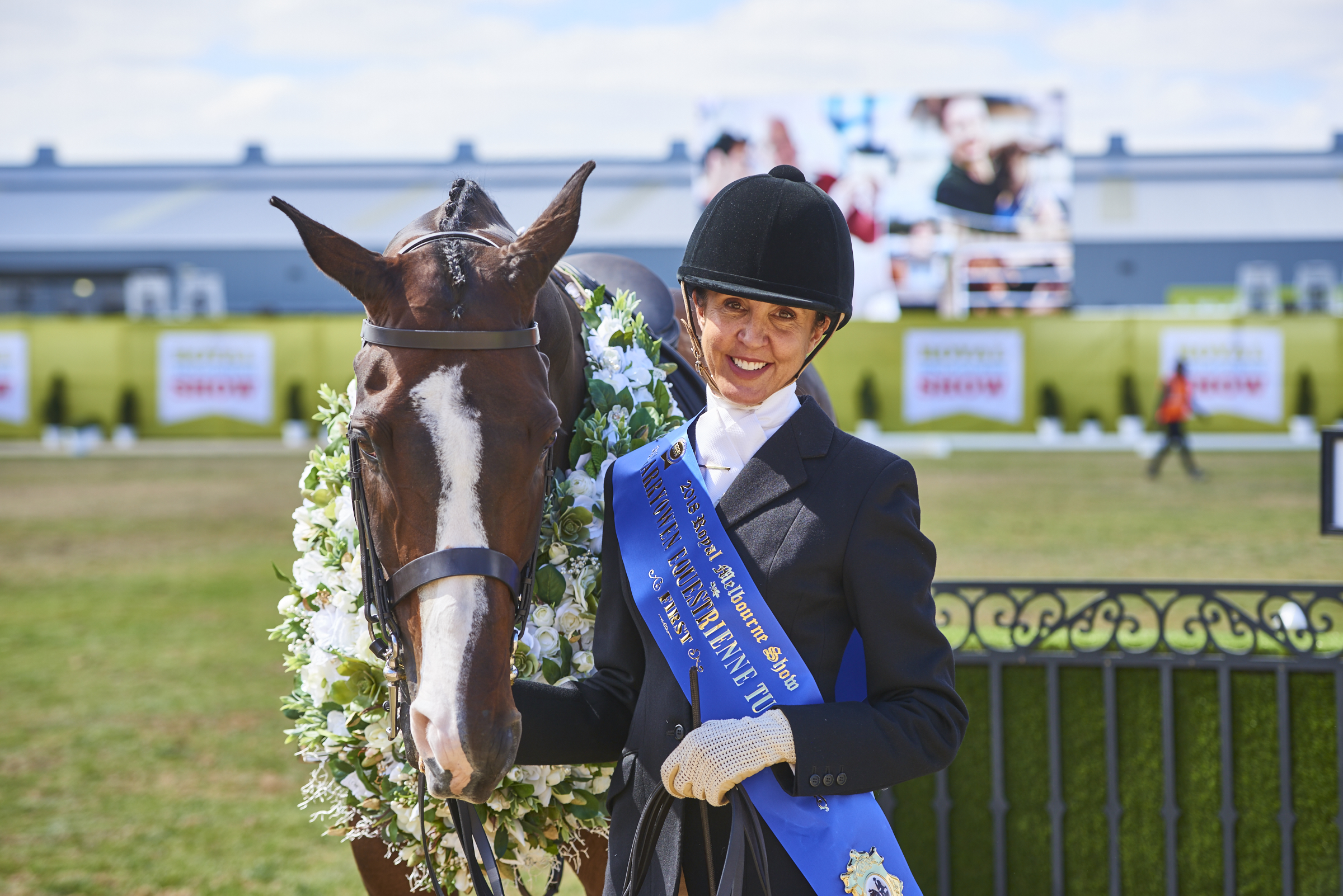 Rebecca Farrow first won the Garryowen Equestrienne Turnout in 2002 and has been a competitor in the event for more than 15 years.
"Last year, we spooked as we entered the arena. This year I felt he was really in tune and thought I just really have to go for it," Ms Farrow said.
To ensure success at this year's event, Ms Farrow adopted a unique training method for Stage Presence.
"About three weeks ago, I started putting random props around the arena … so he soon learnt how to get ridden through every little hiccup," Ms Farrow said.
Rebecca has owned Stage Presence for four years and the pair now work very well together. "He's been an absolute delight to work with," Ms Farrow said. This will be Ms Farrow's last Garryowen competition.
Second place was awarded to Ali Berwick riding Rolex II. Third place was awarded to Madelon Mcdonald on Havenleigh Park Furst Knight, who also took home Best First Year Rider after an impressive workout.
RASV CEO Paul Guerra said the event is the most prestigious female riding event in the country and one of the highlights of Royal Melbourne Show's 11 day program.
"The Garryowen has a long and prestigious history of recognising the country's best female riders and we are delighted to add Rebecca to our list of winners," said Mr Guerra.
Other sash winners included Jemima Draper on Da Vinci Code in fourth place, Jemma Heran on Federer in fifth place and Georgia Kellock on Belcam Coralline in sixth place.
The event is open to female riders aged 18 years and over and a panel of six experts judged each rider and horse on conformation and soundness; manners and paces; saddlery; costume; riding ability; and general appearance. 
The Garryowen Equestrienne Turnout is part of the Royal Melbourne Show's dedicated turnout day, which also included the Esquire, John Lithgow, J. Pemberton and K.G Luke turnouts.
In the John Lithgow Equestrienne Turnout, Havenleigh Park Furst Knight (AI) ridden by Madelon McDonald were awarded first place, with Supreme ridden by Stephanie O'Connor taking second place.
Michelle Paynter on DP Amazing took first place in the Esquire Turnout and Rebecca Phillips on Fire To The Rain was awarded second place.
First place in the K.G. Luke Equestrian turnout was awarded to Ebonie Lee on Kolbeach Hollys Knowing, with Adelaide Jacobs riding Beauparc Dreams named in second place.
In the J. Permberton turnout, Jessica Fraser riding Royalwood Concerto were awarded first place honours, with Tahlia Young riding Gordon Park Sophies Choice named in second place.