2018 Royal Melbourne Show All Breeds Championship Show Winner
01 Oct 2018 / Melbourne Royal Competitions
Sup. Ch. Alaqadar Rigoletto (Ai) 'Riggs' the Afghan Hound caps off a big year with Best in Show at the Royal Melbourne Show All Breeds Championship Show
Co-owners Wayne Douglas and Arnold Tan couldn't be prouder.
"This is the top of the bucket list now ticked off. It's just amazing. I've been showing dogs since 1977, and this is the pinnacle" said Mr Douglas.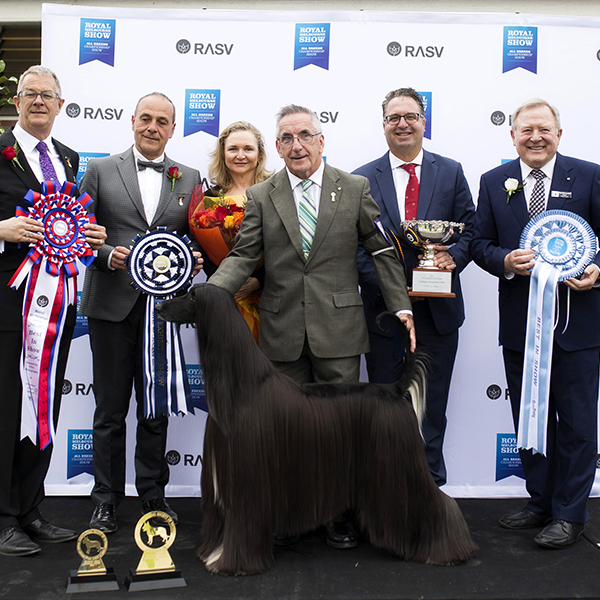 Presented by The Royal Agricultural Society of Victoria (RASV) in conjunction with DOGS Victoria, the Royal Melbourne Show All Breeds Championship Show is one the largest shows of its kind in the southern hemisphere, with over 3,500 entries and 1,300 exhibitors competing for a prestigious Royal Melbourne blue ribbon.
Riggs was runner up in the Hound Group last year at the Royal Melbourne Show and won Best in the Hound Group this year at the Royal Adelaide Show.
"He's had a pretty stellar career and 2018 has been a wonderful year," said Mr Douglas.
Before winning Best in Show at the Royal Melbourne Show, Mr Douglas, Mr Tan and Riggs were taking home award after award in Europe.
"He's now an International Champion. He is a UK Champion, Swedish, Luxembourg and Netherlands Champion. He is still the top Afghan in the UK," Mr Douglas said.
Riggs won at the European Sighthound Show and the Sighthound Group at the World Dog Show.
In awarding Best in Show at the Royal Melbourne Show, esteemed international judge, Mr Francesco Cochetti of Italy said, "He was really close to perfection, my best in show."
"He has the style which is very important for the breed and beautiful movement. This is the movement we don't see so often any more, this springy movement that the breed should have."
RASV CEO Paul Guerra commended all competitors who took part in this year's wonderful competition.
"On behalf of the RASV, I congratulate all the exhibitors who have taken part in this prestigious event and particularly commend the connections of champion Riggs on being awarded this honour," Mr Guerra said.
"I'm very proud of him. I'm very blessed to have this dog," Mr Douglas said.