2022 Melbourne Royal Wine Awards
08 Nov 2022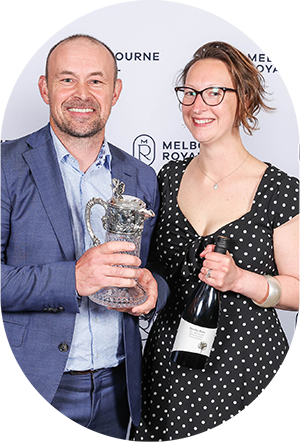 Winners announced for 2022 Melbourne Royal Wine Awards  
Victorian, South Australian and Tasmanian wineries take out major trophies 
The winners of the 2022 Melbourne Royal Wine Awards (MRWA) have been named at the Trophy Presentation at Victoria Pavilion on Thursday 27 October. This year the Melbourne Royal Wine Awards received 2,350 entries, an 18% increase from last year, from 380 exhibitors from across Australia.  
The Champion Victorian Winery has gone to Yarra Valley's Oakridge Wines. Established in 1978, Oakridge has grown to become an internationally recognised producer of award-winning wines, led by chief winemaker David Bicknell.  
Another Victorian major award winner is Geelong's Scotchman's Hill, which was awarded The Trevor Mast Trophy for Best Shiraz for its 2021 Shiraz. This wine was also awarded Best Victorian Shiraz. 
South Australia was the most represented state with 967 Entries (43% of total) from 170 Exhibitors (almost 45% of total). SA took out the coveted Jimmy Watson Memorial Trophy, first awarded 60 years ago in 1962, for Best Young Red Wine, which went to The Old Legend, 2021, Grenache from Barossa Valley's Hentley Farm. This sensational wine also took out the Best Grenache category. Widely recognised across the state, this wine has also recently taken home the Best Grenache of Show Trophy at the Sydney Wine Show 2022 and the Barossa Valley Wine Show 2022 Gold Medal.  
2022 is the first time in a significant number of years that the Francois de Castella Trophy for Best Young White Wine has gone to a variety other than chardonnay. This year it was awarded to the Macclesfield Grüner Veltliner 2022 by Longview Vineyard in Adelaide Hills. This wine also took out Best Single Varietal Wine. Longview Vineyard additionally won Best Pinot Gris/Grigio for its Queenie Pinot Grigio, 2022 as well as Best Cabernet Sauvignon for its Devil's Elbow Cabernet Sauvignon, 2021.  
The Douglas Seabrook Trophy for Best Single Vineyard Wine went to Black Label Emerald Syrah, 2021 from Gala Estate. This wine also took out Best Tasmanian Shiraz and Gala Estate was also awarded for The Kym Ludvigsen Trophy for Viticultural Excellence, which went to Viticulturalist Marty Smith. Gala Estate is a family run vineyard in Cranbrook on the East Coast.  
Tasmanian wineries continued to garner major award wins with the Dr Tony Jordan Trophy for Best Sparkling, which went to House of Arras Grand Vintage for its 2014 Chardonnay. For the seventh consecutive year, the James Halliday Trophy for Best Pinot Noir has gone to a Tasmanian winery. This year, Lowestoft Estate Wines was awarded for their La Maison Pinot Noir 2021 for the second year in a row.  
Melbourne Royal CEO, Brad Jenkins said, ""The Melbourne Royal Wine Awards recognise and celebrate excellence in Australian wine making. The Jimmy Watson Memorial Trophy was first awarded 60 years ago and is the trophy wine makers from all around Australia want to win. Melbourne Royal congratulates South Australia's Hentley Farm on being the 2022 winner." 
"Along with the Jimmy Watson trophy, the Francois De Castella, Trevor Mast and James Halliday trophies are some of the most respected winemaking awards in the country and are recognised both nationally and internationally. Winning a trophy in the Melbourne Royal Wine Awards can be a game changer for a winemaker and winery. The Melbourne Royal seal of excellence provides great marketing value to winners as it has significant cache in the wine industry and with consumers," said Brad. 
Melbourne Royal Wine Awards Melanie Chester, Chair of judges, said: "Big cheers to the wonderful squad of stewards, led by the wonderful Sue Pettitt, and a huge thank you to the amazing judging panel, who gave up time away from their businesses and families to come to Melbourne to taste a heap of wines. I really love wine and celebrating our industry and it was a real pleasure to judge with those who feel the same. Thank you to all exhibitors for entering their wines for our consideration and congratulations to all medal and trophy winners." 
This year the Melbourne Royal Wine Awards handed out a total of 1,043 medals, including 151 Gold, 254 Silver, 638 Bronze. The awards were judged by 29 accomplished experts in wine, retailing and writing. With 12 female judges, almost half the judging panel is female. 2022 is the first year Melanie Chester joins Melbourne Royal as Chair of Judges, Melanie is also head of winemaking and Vineyards at Giant Steps Wines. 
For full results, visit www.melbourneroyal.com.au/wine