An update from the Melbourne Royal Emerging Leaders Group
27 Oct 2021 / Melbourne Royal News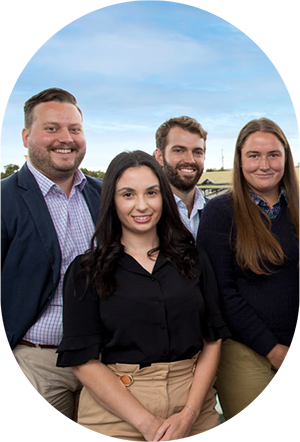 Formed in March 2021, the Melbourne Royal® Emerging Leaders Group is a platform for young Victorian agri-professionals aged 18-35 to make a valuable contribution to promoting agriculture, cultivating events and strengthening communities.
The group includes nine voluntary members who represent a diverse range of agricultural industry sectors and will provide advice to and representation of Melbourne Royal®, facilitating and supporting youth initiatives and activities throughout the year.
Comprising of participants from throughout Victoria, the inaugural nine members are Grace Calder (Chair), Tom Havers (Deputy Chair), Ashlea Cross, Danyel Cucinotta, Luke Hooke, Jami Luhrs, Jessica Parker, Kimberley Pellosis and Callum Taylor.
The Melbourne Royal® Emerging Leaders Group plans to develop and present a range of social and professional development initiatives and activities for young agri-professional to get involved over the next 12 months. The first of these is Agri-Chat.
Agri-Chat, presented by the Melbourne Royal® Emerging Leaders Group.
After considerable planning, the Melbourne Royal® Emerging Leaders Group will soon deliver their first major initiative, a lively discussion forum that focuses on a variety of topics relating to the future of agriculture, to be known as 'Agri-Chat'.
To maximise participation and attendance throughout the State, the first Agri-Chat will be hosted as a virtual event on Thursday 18 November, the eve of National Agriculture Day, taking place on Friday 19 November. With three expert panelists taking part in the program, it will be livestreamed throughout Victoria via the Melbourne Royal® Facebook page.
The forum will be hosted by members of the Melbourne Royal® Emerging Leaders Group with the expert panelists provided with set topics to constructively discuss and debate, with a range of viewpoints and opinions to be heard.  
The first Agri-Chat will be a one-hour program with the broad topic of Breaking barriers & exploring innovative opportunities set to guide the discussion.
Further details regarding the Agri-Chat forum, including guest panelists and how to view the livestream will be made available to Melbourne Royal® stakeholders in the coming weeks. 
2021 Australian Young Farmer Challenge conducted online
Each year, the Australian Young Farmer Challenge (AYFC) provides an opportunity for representatives from each Australian State and Territory to battle it out in a series of challenges to be crowned the national champions.
Whilst the current COVID-19 restrictions put a halt on plans to host this year's National Final at the Adelaide Royal Show, this year the AYFC facilitators, Agricultural Shows Australia (ASA) hosted an agriculturally themed online quiz that was livestreamed throughout Australia.  
With five teams of four representatives from New South Wales, South Australia, Queensland, Western Australia and Victoria competing, the night was delivered in great spirits.    
The Victorian team was proudly represented by Ashlea Cross, Olivia Cross, Sarah Cox and William Quartermain proudly represented Victoria at the recent Australian Young Farmer Challenge National Final.
In what was an extremely close finish NSW took out the title, second place went to the team from Western Australia, third place was Victoria, fourth place Queensland and fifth place was awarded to South Australia.