Beef Cattle and Carcase Competition winners crowned at 2023 Melbourne Royal Show
01 Oct 2023 / Melbourne Royal Competitions, Melbourne Royal Show
Attracting the top of the herd, the Melbourne Royal Show Beef Cattle and Carcase Competition has crowned the 2023 winners.
It proved a particularly triumphant show for Woonallee Simmentals, who took home Supreme Breeders Group, Supreme Senior Champion beef female, and the pinnacle prize – Supreme Beef Breed Exhibit.
"It was an incredible finish to the Melbourne Show with Woonallee Kathie S146 winning the Supreme Interbreed Beef Exhibit," the family said.
"Thank you to the Melbourne Show beef cattle committee, the Victorian Simmental branch and all of the judges throughout the show, and to the sponsors both in the Interbreed and Simmental judging.
"It's been a jubilant year for Woonallee Simmentals, with the stud ensuring another breed record tumbled in August as they hit a high of $55,000 with bull Woonallee Toronto T274. The sale defied this year's drier seasonal conditions and the cattle market contraction, and adds to another feather to the family's cap in 2023.
Supreme Senior Champion Beef Breed Bull was won by IC and LE Frecklington from Peak Hill, NSW stud, Hollywood Angus with Hollywood Smokin' S57.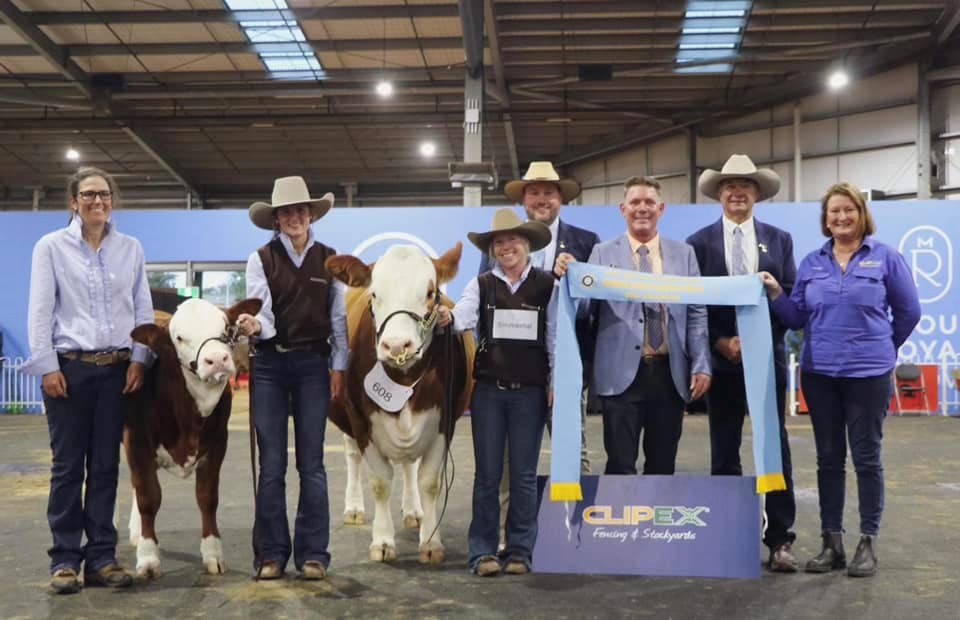 The Melbourne Royal Show Beef Carcase Competition live champion awards saw Grand Champion Steer taken out by Jacob Kerrisk and Shaw's Livestock, pictured below.
Grand Champion Carcase was won by Grant High School in Mt Gambier, South Australia.The school continued to shine in the ring, taking out The Bott-Burston Perpetual Trophy for most successful schools or college exhibitor across both the led and carcase judging, and the Marcus Oldham College Trophy awarded to the highest scoring school or college exhibit based on carcase judging results.
The Melbourne Royal Beef Cattle Competition provides breeders with the opportunity to showcase and benchmark their livestock in one of Australia's biggest and most prestigious cattle competitions.