Best in Show
03 Oct 2022 / Melbourne Royal Competitions, Melbourne Royal Show, Agriculture, Horses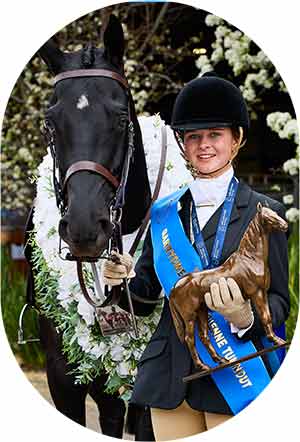 Thank you to everyone who entered the 2022 Melbourne Royal Show, and congratulations to everyone who won a coveted Melbourne Royal blue ribbon. From livestock and their handlers to show horses and their champion riders, poultry and their fanciers and the championship dogs and their owners to the makers and creators of the most intricate creations of the art, craft and cookery competition along with the strength and skill of the woodchoppers.
Equestrian
Garryowen Equestrienne Turnout Winner: Ebonie Lee

Noel Mason Perpetual Trophy: Dulverton ridden by Paige Douglas

Alistair Irving Memorial Trophy: Combaning Downs Elect - Combaning Stockhorses & Darcy Schliebs

Doug Findlay Memorial Trophy: Valmont Rosetta – Cox Family

R & J Galloway Clydesdale Challenge Cup: Willice Park Clifford

Allan Marriot Perpetual Trophy: Pride, Prince, Philip And Peta – A.T. Marriott & Family

George Adams Tattersall Perpetual Trophy: Warrawee Impresareeo – Elizabeth Krog

K.G Luke Perpetual Cup: Quantador (Ger) (Ai) ridden by Arielle Stella

Louis Epstein Perpetual Trophy: Royal Oak Foreign Affairs ridden by Sabrina Gilmour

Providence Cup: Verdict By Direction (Ai) – Melissa Gillie
Livestock
Interbreed Champion Ram: Finley High School
Interbreed Championship Ewe: Ellingerrin Border Leicester Stud
Beef Cattle Charolais CC23S Supreme Exhibit: Rangan Ronan R40 (P)
Beef Cattle Australian Lowline AL36S Supreme Exhibit: Rotherwood Precious Girl (RC)
Beef Cattle Red Angus Classic RA32S Supreme Exhibit: Bolton Girls Naughty or Nice
Beef Cattle Simmental SI22S Supreme Exhibit: Maverick Red Star
Beef Cattle Bickleys Transport Supreme Beef Breed Exhibit: Maverick Red Star (Simmental)\
Beef Carcase CAR4S Grand Champion Carcase: Finley High School
Alpacas
Alpaca Supreme Champion: Precision Alpaca Group
Poultry
Supreme Champion in Show: TJ & DM Dent - Black Rosecomb Cockerel
Reserve Supreme Champion in Show: Ducknuts Waterfowl - White Young Muscovy Duck
Grand Champion Pair or Trio in Show: Mr Michael & Mrs Kathy Holmes - Bantam Duck Pair
Reserve Grand Champion Pair or Trio in Show: Gunter Krohn - Bantam Softfeather Heavy Sussex Trio
Schools Poultry Competition:

Primary school winner - St Anne's Primary School Sunbury
Secondary school winner - Woodleigh School
Dogs
Dogs Best in Show: Samoyed, exhibited by Ying (Helen) Chen

Best Puppy in Show: Taejaan Rolling In The Deep(Ai) - Whippet

Best Baby Puppy in Show: Lambda All A Buzz - Boxer
Woodchop
Golden Axe Winner: Glen Gillam
Art Craft & Cookery
Best in Show Photography: Michelle Baker
Best in Show Art: Elizabeth Moore Golding
Best in Show Preserves: Steven Bebend
Best in Show Decorated Cakes: Jo-Anne Failla
Best in Show Confectionary: Rosemary Keogh
Best in Show Cookery: Anne-Marie Primmer
Best in Show Junior Cookery: Mya Singh
Best in Show Craft: Wayne Nicholls
Youth in Agriculture
2022 Victorian Rural Ambassador: Alexandra Pattinson from Foster and District Agricultural Show in Gippsland
The Melbourne Royal Rising Star Award: Tess Runting & Abbie Hanks
The Melbourne Royal Emerging Leader in Agriculture Victoria Award: Matt Cooney
Visit our website to see the full results.