Boonaroo Angus named Champion of 2018 RASV Beef Week Heifer Challenge
09 Feb 2018 / Melbourne Royal Initiatives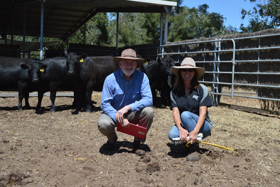 The Royal Agricultural Society of Victoria (RASV) named Boonaroo Angus Heifer Challenge Champion for 2018 at a prestigious celebration last night in Bendigo, following nine days of on-farm judging.
The Corndale located property, led by Shane and Jodie Foster was selected from the 45 entered properties to be awarded the honour and a $3,000 cash prize.
A cattle judge of 30 years experience and previous long-term entrant, Malcolm Cock, Agriculture Victoria BetterBeef Coordinator was welcomed as this year's competition judge, travelling more than 6,000km to judge studs across Victoria and into New South Wales from Monday 29 January – Tuesday 6 February 2018.
Mr Cock, speaking at last night's presentation, said the calibre of entries was once again outstanding.
"I would like to acknowledge RASV and Beef Week initiative of running an informative competition that gives stud beef producers an opportunity to "benchmark" their breeding and marketing on their home ground," said Mr Cock.
"It has been a pleasure and honour to be judging so many great pens of heifers of many different breeds and to discuss them with their breeders.
The vast majority of the heifers were very sound cattle and a real credit to the breeders. This made it difficult to separate the ten finalists.
Congratulations to all associated with the RASV Heifer Challenge 2018."
As one of the many programs RASV conducts throughout the year to highlight quality production in agrifood and fibre, the Heifer Challenge recognises excellence in herd replacement females in seed stock operation throughout Victoria and into NSW.
2018 Reserve Champion, including a $1500 cash prize was also awarded to Mount William Charolais at the presentation dinner last night, along with eight finalists. 

Run by Stud Beef Victoria, Stock & Land Beef Week provides more than 200 beef producers with a unique opportunity to market, showcase and select genetics for breeding operations.