Candy Paints the town red at 2023 Australian International Beer Awards
30 May 2023 / Beer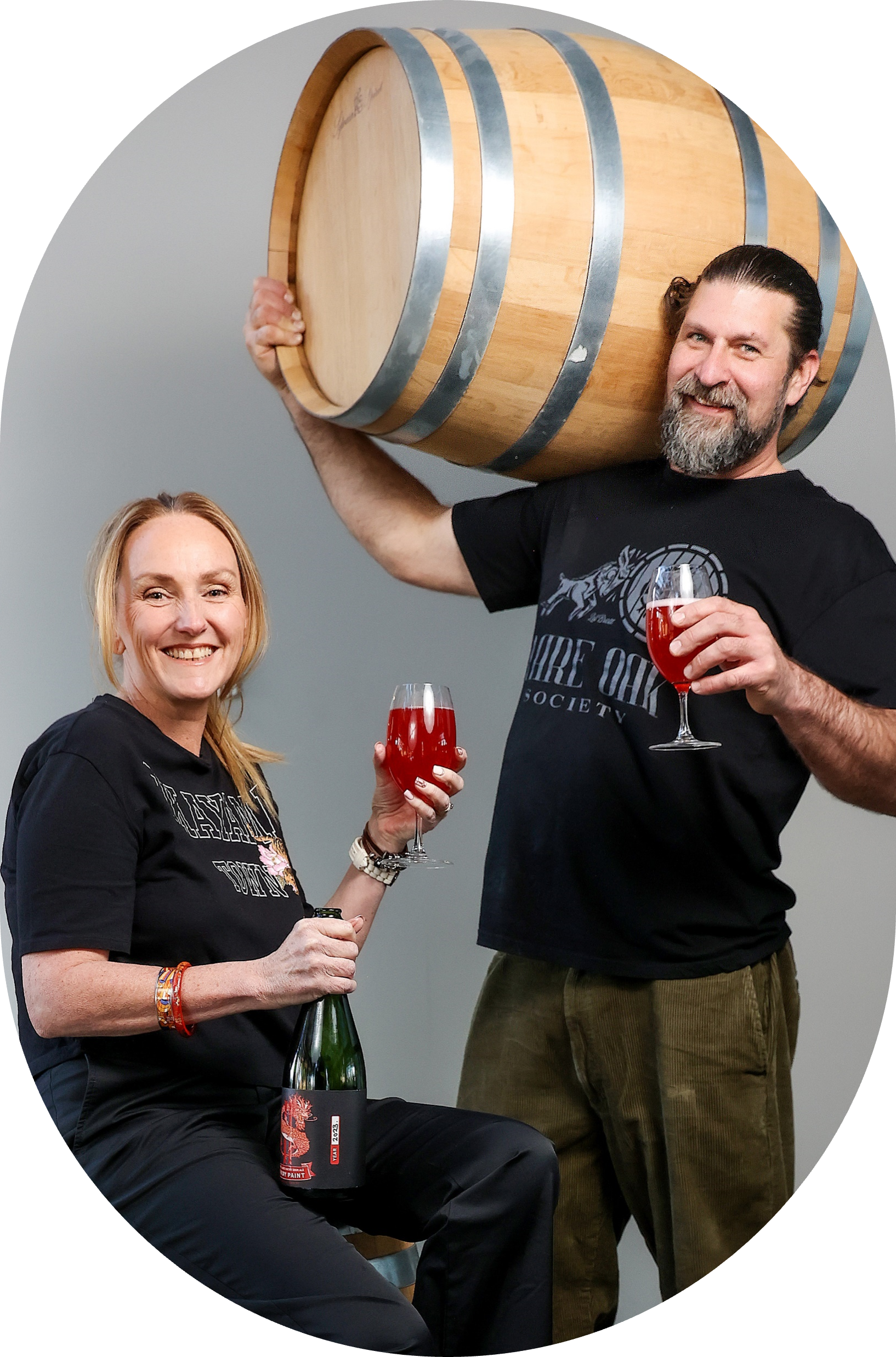 History repeats as Dollar Bill Brewing reigns supreme in the 2023 Australian International Beer Awards
The 2023 Australian International Beer Awards have been run and won for another year and it was a case of history repeating itself as Ballarat-based brewery Dollar Bill Brewing took out their second Champion Australian Beer in just three years.
For the husband-and-wife team of Fiona and Ed Nolle it was a remarkable achievement, with a room of over 900 guests at the industry's night-of-nights on Thursday 25 May at the Victoria Pavilion acknowledging the popular winners with a standing ovation. On a night where the Awards were celebrating 30 years, this felt like an iconic moment deserving of the occasion.
Dollar Bill Brewing took out the prestigious title of Champion Australian Beer for their Candy Paint 2023 Barrel Aged Sour Ale, just two years after claiming the title in 2021 for their 'Gold Teeth' Barrel-Aged Peach Sour Ale. For good measure, Candy Paint also won the Best Fruit Beer award, with the brewery making it three wins on the night after receiving the Australian Gypsy Brewer Award, claiming back-to-back wins for the award following their success in 2022.
Melbourne Royal caught up with Fiona and Ed Nolle following their win.
Congratulations on the win for Champion Australian Beer, the second win in three years, how does that happen?
Fiona: We don't know, we think we should ask someone though (laughing). We are stunned and shocked.
Ed: For me it comes down to product, the volume that we put out is quite minimal, which means that we really focus on the quality of it, and if that means we don't make any money from a release, it's unfortunate, but it means we put out a better product. So, we are really focused on getting the best product out to market for the amount of fruit that we can access, which comes down to the growers in Victoria and how much fruit they have.
What was your initial reaction when you heard Candy Paint called out as the Champion Beer?
Fiona: I nearly had a heart attack, we were joking that it will never happen and when it happened, we both just went, 'what the heck!'.
Winning the Champion Beer Award on the 30th anniversary of the awards, what does that mean to you?
Fiona: That's a whole different kettle of fish, even the outfit I chose to wear tonight was revolved around that, so I went all out for it because it's a big deal. To do what we just did in there, it's ground-breaking, it's massive and it means a lot to us. There are only two of us and we couldn't be prouder, and we couldn't appreciate it more.
How long has Dollar Bill Brewing been around for?
Fiona: We have been in Ballarat for seven or eight years now and selling retail for about six-and-a-half years. We have been together for about 20 years and when I first met Ed he was already brewing, but it has taken a lot of time to build the brand. We made the decision that we would have our brewery on our property, to make it feel like it is a part of our family, to be something we do together. So, we built the brand completely organically and we are lucky that Ed is so good at his job, the passion that Ed has for it, that has well and truly rubbed off on me.
Can you tell us more about the award-winning Candy Paint Barrel Aged Sour Ale?
Ed: It's essentially a barrel-aged saison, so saison yeast, 30% wheat, 70% pilsner malt and then aged for about 18 months. We also blend it in a barrel of about six-to-eight-year-old pseudo-lambic, which adds a whole lot of complexity, a whole lot of Brettanomyces, ensuring a truffle-kind of aroma and base to it. We then put it over these beautiful cherries from the Mornington Peninsula, let it ferment and then bottle it.
So how would you describe the taste?
Ed: It's complex, sour, with a little bit of mushroomy, truffle characteristics, with this background of cherries. It's not bitter, more sour, with some acidity to it. It's a little bit like a cherry wine, but with real mushroom complexity.
Fiona: But a really nice, light, effervescence on the tongue, it has these really light bubbles to it, it's just perfect.
Where can people try Candy Paint?
Fiona: We are opening a cellar door in December in Ballarat, but before then any good independent cellar should stock it, such as Blackhearts, Carwyn Cellars, and Mr West in Melbourne and Midtown and Campana's in Ballarat.
All results including medal winners are available at melbourneroyal.com.au.