Celebrating People: Kathleen Cust
22 May 2023 / Melbourne Royal Community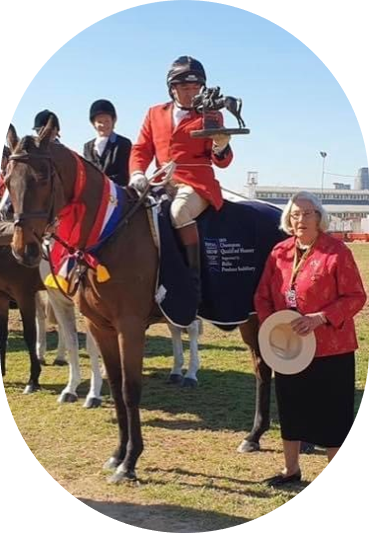 Kathleen Cust has been involved in Melbourne Royal's Horses in Action competition for approximately 70 years and has been the 'main organiser' of the competition's hunting events. Kathleen participated as a steward for a variety of sections and, following in her father Noel Mason's footsteps, was also Master of Findon Hunting Club, a Club which has been instrumental in ensuring the continuation of the Hunting classes at the Melbourne Royal Show.
Kathleen competed in the Ladies Riding Competition over obstacles from 1960 for a number of years and started stewarding in the Saddle Galloways from around 1990, where she continued before assisting in the Hunting Section. Kathleen still owns many horses that have placed well in the hunting competition today.
Kathleen's husband, Dr Richard Cust, is a former director of the Royal Agricultural Society of Victoria Limited, a former senior member of the Veterinary Panel, and former member of the Horses in Action Committee.
Most recently, Kathleen won the Champion Qualified Hunter sash and the Noel Mason Memorial Hunter's Plate in 2022, whereby she owned the winning horse, Dulverton, ridden by rider Paige Douglas.
Kathleen currently sponsors two trophies, the first being the Noel Mason Hunter Plate, an award named after her father, dating back to the 1980s and is presented to the Best Exhibition of jumping at hunting pace. She also sponsors the Darren Green Memorial Trophy, which was introduced at the 2022 HIA Competition in honour of Darren Green. A former Master of the Findon Hunt Club, Green worked and lived on Kathleen and Richard's farm for over 30 years, caring for the horses and property before sadly passing away at just 52 in 2019 in a house fire on the Custs' property.
Kathleen is described as 'a wonderful person who has contributed significantly to Melbourne Royal' and someone who has gone 'above and beyond' her traditional roles as an exhibitor, steward, member and sponsor.
Melbourne Royal Board and management are most grateful to Kathleen for her remarkable service and contribution to the Horses in Action competition at the Melbourne Royal Show.