CEO Message - November 2023
02 Nov 2023 / Melbourne Royal News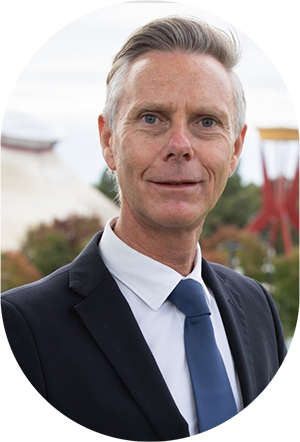 The 2023 Melbourne Royal Wine Awards Presentation luncheon was held today in the magnificent Victoria Pavilion with more than 350 guests in attendance, the largest attendance for more than 15 years. Established in 1884 with just thirteen entries, the Melbourne Royal Wine Awards have evolved and grown significantly over the past 139 years and this year we welcomed 2,425 entries. We were delighted to receive entries from 420 wineries around Australia this year, which represents an increase of more than 10% compared to last year. Thank you to all the wineries who entered Melbourne Royal Wine Awards this year and to everyone who purchased tickets to the presentation luncheon.
The prestige of winning a trophy in the Melbourne Royal Wine Awards continues to grow, particularly the Francois De Castella trophy for Best Young White Wine, the Trevor Mast Trophy for Best Shiraz, and the James Halliday Trophy for Best Pinot Noir. However, the trophy wine makers around Australia want to win, is the esteemed Jimmy Watson Memorial Trophy for Best Young red wine. Winning the Jimmy this year was even more special as we celebrated the 60th awarding of this revered trophy in 2023 and I recommend you watch this incredible video that highlights the importance of the award and some of the past winners.
This year the Melbourne Royal Wine Awards presented a total of 1197 medals, including 180 Gold, 296 Silver and 721 Bronze. Congratulations to all the winners, especially those who clinched the prestigious Big Four trophies and the title of Best Victorian Winery. Their commitment to excellence has truly set the bar high in the industry. This year witnessed remarkable growth in various categories and an increase in Victorian entries, showcasing the talent and passion for winemaking in the region. Learn more here.
Thirty-five judges, led by Chair of Judges Melanie Chester, provided their skills and expertise across five days of judging at Melbourne Showgrounds from Monday 16 - Friday 20 October. The 2023 judging panel consisted of exceptional industry knowledge and expertise, and I sincerely thank all the judges for being an integral part of the success of these Awards and providing your time this year.
I thank our Melbourne Royal Wine Awards committee for their ongoing involvement. The commitment, enthusiasm and passion of Chair, Samantha Isherwood along with Melanie Chester, Matt Harrop, Emma Brown, Jeni Port, Mark O'Callaghan and Rohan Smith ensures the Melbourne Royal Wine Awards continue to evolve and remain highly valued and respected in the Australian wine industry. Their passion, commitment and counsel has been instrumental in the Melbourne Royal Wine Awards being held in such high regard by Australian wine makers.
We are most grateful to all those who generously volunteer their valuable time to assist with the delivery of the awards as stewards and back of house staff. We further extend our sincere gratitude to our valued partners and sponsors: Presenting Partner vintrace, Major Partners PLUMM and BevChain, Government Partners Agriculture Victoria and Drink Victorian and Trophy Sponsors Crown Resorts, SANECTOR, MCC Labels, Crafted ERP, Brunch Agency and the Seabrook Family. Their unwavering support is fundamental to the success and growth of the Melbourne Royal Wine Awards. I also thank the Melbourne Royal team for the considerable thought, effort and commitment that went into organising and curating the 2023 Melbourne Royal Wine Awards judging and the Awards Presentation.
With the 2023 Melbourne Royal Show officially behind us, the positive feedback from our valued visitors, exhibitors, and sponsors is a testament to the event's success. With an impressive 89% visitor satisfaction rate, the Show continues to put a smile on the faces of everyone who attends. The response and support from patrons, volunteers, sponsors and exhibitors has been invaluable, driving us to work diligently towards making the 2024 Show even more exceptional. Our team is already in the midst of planning for next year, aiming to continually improve by adding new attractions and experiences d, ensuring an even more enjoyable experience for all.
As a Board Director of the International Association of Fairs & Expositions (IAFE), I am thrilled to represent all agricultural Shows and State Fairs outside of the USA and Canada at the upcoming IAFE Convention in Salt Lake City. This convention, known as the largest gathering of individuals involved in agricultural shows and state fairs globally, serves as a platform where ideas are shared, knowledge is gained, and networks are strengthened. With more than 1,100 fairs represented, the IAFE plays a pivotal role in unifying the diverse landscape of agricultural shows and state fairs around the world. I look forward to sharing some of my learnings from my trip upon my return.
The Melbourne Showgrounds continues to remain a hive of activity leading into Christmas, with Junipalooza, a great event recently held here over three days. It was an honour to host it at the Melbourne Showgrounds, contributing and supporting towards the growth of a thriving gin industry. The collaboration between the Showgrounds and the gin industry showcased the vibrant spirit of innovation and community support.
Ridin' Hearts Festival is another exciting event to be held this weekend (Sunday 5 November), bringing a fantastic one-day music extravaganza for country music fans to the Showgrounds. Following that, we have some other wonderful events taking place, including Global superstar Post Malone who will be bringing his World Tour right here to Melbourne Showgrounds on 30 November.
As we look back on the accomplishments made this year, we also look forward to continued success and growth in delivering world-class events, fostering innovation, and celebrating the diverse and remarkable talent that makes our industry and community so special. Our stunning Victoria Pavilion remains ready to host your next event, and our team would be delighted to hear how they can help make your next function a memorable one.
Finally, I thank all Melbourne Royal members. As a member-based organisation, we are committed to enhancing member value and the sense of belonging, and it was incredibly pleasing to have a record number of new members join this year to access member benefits at the 2023 Melbourne Royal Show.