CEO Message - September 2023
20 Sep 2023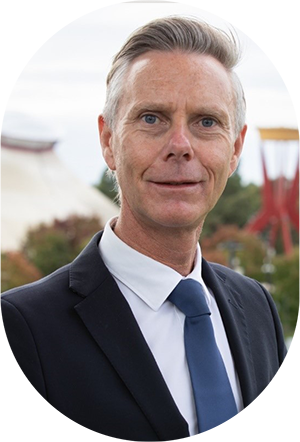 The Melbourne Royal team is extremely excited to present the 2023 Melbourne Royal Show. We look forward to bringing much joy and happiness to the Victorian community over 11 days, from when the Showgrounds' gates open at 9.30 am this Thursday, 21 September.
The Governor-General, His Excellency, General the Honourable David Hurley AC DSC (Retd) and Her Excellency, Mrs Linda Hurley are attending on Thursday 21 September to officially open the 2023 Melbourne Royal Show, for which we are most honoured and grateful.
To mark the special occasion there will a special fly-over by an Air Force Roulette and No. 100 Squadron aircraft along with 100 personnel of Australia's Federation Guard in celebration of 175 years of Melbourne Royal. The opening ceremony will commence at 11.30 am at the Horses in Action Arena.
The Melbourne Royal Show is a remarkable much-loved Victorian major event that brings the community together to celebrate agriculture – producers, products and produce - from rural and regional Victoria to greater Melbourne, it's for all Victorians.
Some will travel with their livestock from Gippsland, Western District or the Mallee, while others will come by Metro train from Werribee, Craigieburn, Frankston, Glen Waverley, Caulfield, Camberwell, Sandringham or Sunbury. From the very young to the young at heart, from the city or the country, the Melbourne Royal Show has thousands of activities, sights, sounds, tastes and experiences to excite, enthral and entertain you this year.
The true stars of the Show are the animals and their handlers all vying to win a coveted Melbourne Royal blue ribbon, from livestock and their handlers to show horses and their champion riders, poultry and their fanciers and the championship dogs and their owners. From the most intricate creations of the art, craft and cookery entrants and the strength and skill of the woodchoppers all striving to claim a Melbourne Royal blue ribbon. I wish all exhibitors and competitors the best of luck in their pursuit of winning Best in Show in our commemorative year.
The quality and variety of experiences at this year's Melbourne Royal Show has been carefully curated to maximise the appeal to visitors of all ages and offer even greater value with loads more fun, free attractions, farm experiences and entertainment.
Every day at the 2023 Melbourne Royal Show there's up to 11 hours of sheer fun, discovery and entertainment for you to enjoy with family and friends. This year there are massive new attractions, more farm experiences and animals, and a huge line up of live entertainment including:
• Bluey Live Interactive Experience;
• Jurassic Unearthed;
• Bello Nock's Comic Daredevil Spectacular. Bello Nock, from the USA, is renowned as one of the world's greatest comic extreme daredevils.
• Airtime Freestyle Motocross Stunt Show;
• The Colours of the Outback Immersive Experience - a celebration of Country with pyrotechnics and lighting; and
• Paramount+ Parade at 4pm, daily– featuring all your beloved Nickelodeon characters.
I encourage you to come along and enjoy great family fun and farm experiences every day and a feast of fabulous food, spectacular entertainment and live music every night including Sheppard, Bliss n Eso, Eskimo Joe, Sneaky Sound System and more.
For all your Show information, I encourage you to read the Herald Sun Showguide or visit royalshow.com.au.
This year to enhance the customer experience, we are capping the number of daily tickets available to 50,000. The response has been extremely positive, with a significant uptick in ticket sales prior to the opening day, with more people taking advantage of the opportunity to save up to 15% on admission tickets and up to 25% on rides.
The daily capacities are designed to ensure visitors have a safe and enjoyable experience with family and friends, whichever day they come to the 2023 Melbourne Royal Show. Once again, this year, tickets are only available for purchase online at royalshow.com.au.
A Melbourne Royal membership is the best-value way to experience the 2023 Melbourne Royal Show. I thank all our members for their support this year and we trust you will enjoy great value and benefit from your Melbourne Royal membership this year.
If you're not a Melbourne Royal member, there is still time for you to join. As a valued member, you can enjoy complimentary admission for you and a guest to the Show as well as discounted car parking at Flemington racecourse, access to Members' dining and hospitality areas, priority entry to the Animal Nursery and reserved seating in the Grandstand to enjoy the spectacular entertainment on the main stage. To join today, simply visit melbourneroyal.com.au/membership and complete the online application or alternatively, telephone 03 9281 7444.
The remarkable longevity and success of Melbourne Royal Show is due to the incredible passion and commitment of wonderful people who are involved as volunteers. We have had a huge response from the Victorian community to volunteer and be involved with the Show this year. The number of volunteers assisting us to deliver the event in a variety of roles including as judges, stewards and customer service, has increased by a whopping 30% this year. I thank all our volunteers for their involvement and hope they have a wonderful time.
We are particularly grateful to members of our Show Competitions Committees who volunteer their valuable time and countless hours to assist us in developing and delivering quality agricultural and leisure interest competitions and importantly provide wonderful support, counsel and advice.
I also thank all our valued official partners and sponsors for their support and involvement:
Principal Partners and major sponsors - Coca-Cola Europacific, Paramount+, Metro, Sushi Hub, and Channel 9.
Sponsors - Spotlight, Agriculture Victoria, PURA, Wonder Pies, St Remio, Mitsubishi Motors, Showtime Attractions, Kubota, Life Wise,Cirka and Select Events.
Finally, we are incredibly grateful for the support we receive for the much-loved Melbourne Royal Show from the Victorian community. Thank you to everyone who has already purchased tickets and taken advantage of the early bird savings. We trust that you will have a fun and enjoyable day out with family and or friends.
Melbourne Royal Show is many things to many Victorians, and it's where smiles and happy memories have been in abundance since 1848. May the Show bring much community joy and happiness again this year.
We look forward to welcoming you to the Melbourne Royal Show at Melbourne Showgrounds from Thursday, 21 September to Sunday, 1 October. Where every day is not your everyday!
Brad Jenkins
Melbourne Royal, CEO