CEO Update - December 2021
07 Dec 2021 / Melbourne Royal News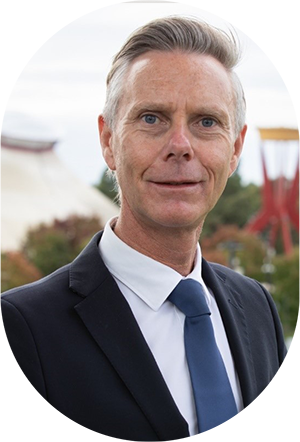 The start of summer has lifted our spirits as events have once again come alive at Melbourne Showgrounds.
We proudly held two highly successful Melbourne Royal events back-to-back last week in the Victoria Pavilion. On Wednesday 1 December, we held a stylish cocktail presentation to announce the trophy winners for the 2021 Melbourne Royal Australian Distilled Spirits Awards and on Thursday 2 December we held the trophy presentation dinner for the 2021 Melbourne Royal Wine Awards.
The Minister for Regional Development and Agriculture, The Hon. Mary-Anne Thomas generously attended both nights and presented the trophies for Champion Victoria Gin to Eltham's Naught Distillery and Champion Victorian Winery to the Yarra Valley's Giant Steps.
The Victorian Treasurer, the Hon. Tim Pallas also attended Australian Distilled Spirits Awards and presented the trophy for Champion Victorian Distiller to Dromana's JimmyRum.
We are most grateful to Minister Thomas and the Treasurer for attending and in particular for their ongoing interest and support of the Melbourne Royal and our events, awards and venue.
Since first being held in 2015, the Australian Distilled Spirits Awards have experienced incredible year-on-year growth. This year we received a record 760 entries from 191 exhibitors and the judges awarded an amazing 90 gold, 241 silver and 269 bronze medals. Congratulations to all the medal and trophy winners and in particular to South Australia's Never Never Distilling Co. for being awarded Champion Australian Distiller and the first ever back-to-back winner of this prestigious award.
I particularly want to thank and acknowledge our Industry Advisory Group for their ongoing advice, counsel and support. The commitment, enthusiasm and passion of Seb Costello, Head Judge along with our other Industry Advisory Group members Stuart Gregor and Sebastian Raeburn continues to be instrumental in ensuring the success of these awards and Melbourne Royal is most grateful for your involvement.
After being unable to host the Melbourne Royal Wine Awards last year, it was a wonderful achievement to successfully deliver the four days of judging and a banquet dinner for the Australian wine industry at Melbourne Showgrounds.
Congratulations to Fallen Giants from the Grampians wine region on winning the iconic Jimmy Watson Memorial Trophy for best one or two-year-old red wine with their 2019 Shiraz, whilst Tasmania's Tolpuddle won the François De Castella Trophy for Best Young White with their 2020 Chardonnay. I trust that Fallen Giants and Tolpuddle along with all the other medal and trophy winners enjoy great value and benefit from their win particularly from incorporating the Melbourne Royal seal of excellence in marketing and on packaging.
I thank our Committee for their ongoing advice, counsel and support. The commitment, enthusiasm and passion of Chair, Samantha Isherwood, Chair of Judges Matt Harrop along with members Melanie Chester, Emma Brown, Jeni Port and Mark O'Callaghan was instrumental in allowing the awards to proceed and succeed whilst meeting the challenges posed by COVID-19 restrictions.
Despite the challenges of 2021, remarkably we were still able to hold the three of our Melbourne Royal beverage award programs this year, with the Australian International Beer Awards being held in May, the Australian Distilled Spirits Awards in October and Wine Awards in November.
I thank again all the committees, judges, stewards and staff that dedicated their time and expertise to enable us to hold these awards this year and in particular, to maximise their appeal and success. It would not be possible to conduct world class award programs like these without the wonderful and generous support and assistance of our valued partners and sponsors and I thank everyone that supported the Melbourne Royal award programs this year.
We now look forward to delivering a full program of Melbourne Royal events and awards in 2022 including an exciting all-new program to recognise and celebrate food categories.
The festive season is quickly approaching, and the Melbourne Royal administration office will be close from 12noon on Thursday 16 December 2021 and reopen 9am Monday 10 January 2022. After another challenging year, the summer holiday period will provide a valuable opportunity for all of us to reflect, relax, and refresh in readiness for a much bigger and better 2022.
Thank you for your ongoing support and I wish you and your families the very best for the festive season and the new year.
Brad Jenkins
Chief Executive Officer
Melbourne Royal®