CEO Update - November 2022
08 Nov 2022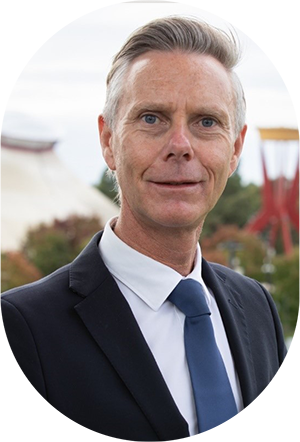 It is fabulous to see the successful return of more Victorian events following the 2022 Melbourne Royal Show, which attracted more than 500,000 visitors over 11 days. 
Events like the Melbourne Royal Show contribute significant economic, social and community value to the state of Victoria and we look forward to the positive momentum generated from the 2022 Melbourne Royal Show continuing to build further confidence in the events industry. Pleasingly, we are already seeing significant uplift in interest to hold events at Melbourne Showgrounds in 2023 and 2024. 
Equitana is the next big event to be held at Melbourne Showgrounds from 10 to 13 November. Equitana is the biggest equine extravaganza in the southern hemisphere that features equine education, entertainment, exhibition and competition. I wish Rod Lockwood and his team at Equitana all the best for the return of the event this year and trust that it will be a huge success.   
Since the 2022 Melbourne Royal Show, we proudly held two highly successful Melbourne Royal events back-to-back last week in the Victoria Pavilion. On Wednesday 26 October, we held a stylish cocktail presentation to announce the trophy winners for the 2022 Melbourne Royal Australian Distilled Spirits Awards and on Thursday 27 October we held the trophy presentation dinner for the 2022 Melbourne Royal Wine Awards. 
This year the Melbourne Royal Wine Awards received 2,350 entries from 380 wineries representing 67 wine regions across Australia. Thank you to the Australian wineries who entered the 2022 Melbourne Royal Wine Awards and congratulations to all the medal winners.  
The awards were judged by 30 accomplished experts in wine, retailing and writing. I sincerely thank Melanie Chester, Chair of Judges along with all the judges and 30 volunteer stewards led by chief steward Sue Pettitt for their involvement. This year 1,043 medals were awarded including 151 Gold, 254 Silver, 638 Bronze.  
The Old Legend, 2021, Grenache from Barossa Valley's Hentley Farm won the coveted Jimmy Watson Memorial Trophy, first awarded 60 years ago in 1962, for Best Young Red Wine. Yarra Valley's Oakridge Wines won Champion Victorian Winery. Scotchman's Hill 2021 Shiraz was awarded The Trevor Mast Trophy for Best Shiraz. The Francois de Castella Trophy for Best Young White Wine was awarded to the Macclesfield Grüner Veltliner 2022 by Longview Vineyard in Adelaide Hills. The James Halliday Trophy for Best Pinot Noir was awarded to Lowestoft La Maison Pinot Noir, 2021 Pinot Noir, Lowestoft Estate Wines, TAS. 
The Jimmy Watson Memorial trophy, the Francois De Castella, Trevor Mast and James Halliday trophies are some of the most respected winemaking awards in the country and are recognised both nationally and internationally. Winning a trophy in the Melbourne Royal Wine Awards can be a game changer for a winemaker and winery with the Melbourne Royal seal of excellence having significant cache in the wine industry and with consumers. 
We are most grateful for the involvement of industry experts on our Melbourne Royal Wine Awards committee. I sincerely thank Chair, Samantha Isherwood, Chair of Judges Melanie Chester along with members, Matt Harrop, Emma Brown, Jeni Port, Mark O'Callaghan and Rohan Smith for their ongoing advice, counsel and support.  
It would not be possible to conduct the 2022 Melbourne Royal Wine Awards without the generous support and assistance of our valued partners and sponsors. Thank you to our Major Partners Plumm, as well as the Victoria State Government for their interest and support, along with our Trophy Sponsors BevChain, Seabrook Wines, Marilyn, Sanector and MCC Labels. 
The 2022 Melbourne Royal Australian Distilled Spirits Awards attracted a record 863 entries this year. We greatly appreciate the participation of the 208 Australian distillers and extend our congratulations to the successful medal and trophy winners.  The biggest growth was in the Whisky and Gin categories, with Whisky entries increasing by 48% following the introduction of a new Whisky trophy, and Australian Distilled Gin entries were up by 11%.  
Recognising the long tradition of distilling in Australia and the emergence of the new generation of spirits and liqueur producers, the Australian Distilled Spirits Awards provides Australian distillers with a valuable benchmarking opportunity to drive innovation and improve quality.  
Over 2 days at Melbourne Showgrounds, 40 judges assembled to critique and provide commentary on each of the entries, with the panel led by head judge Seb Costello. I thank all the judges and stewards who generously volunteer their valuable time to assist us with judging the 2022 Melbourne Royal Australian Distilled Spirits Awards. 
Sixteen trophies were presented with McLaren Vale's Never Never Distilling Co. awarded Champion Australian Distiller for the second year in a row. The distillery also won Best New World/Contemporary Gin for their Southern Strength Gin.  
Yack Creek Distillery, who won the Champion Victorian Distiller and Eltham's Naught Distilling won Champion Victorian Gin with their Naught Sangiovese Gin.  
I thank our Distilling Industry Advisory Group for providing valuable insight into the latest industry trends and advice on how we can further advance these awards and provide even greater value to distillers.  The enthusiasm and passion of Seb Costello, Head Judge along with our other Industry Advisory Group members Luke McCarthy, Stuart Gregor and Sebastian Raeburn continues to be instrumental in the significant growth in the awards.  
We are also most grateful for the support we receive from sponsors of the 2022 Melbourne Royal Australian Distilled Spirits Awards including Dan Murphy's, BevChain, Cryer Malt, MCC Labels, Plasdene Glass-Pak and Sanector.  
Congratulations to all the trophy and medal winners in the both the 2022 Melbourne Royal Wine Awards and 2022 Melbourne Royal Australian Distilled Spirits Awards. I trust that you will enjoy great value and benefit from using the Melbourne Royal seal of excellence in your marketing. 
Finally, I thank all Melbourne Royal members. As a member-based organisation, we are committed to enhancing member value and the sense of belonging, and it was incredibly pleasing to have a record number of new members join this year to access member benefits at the 2022 Melbourne Royal Show.