Challenge accepted - Clunes team takes out the Young Farmer Challenge state title
11 Apr 2022 / Agriculture, Melbourne Royal News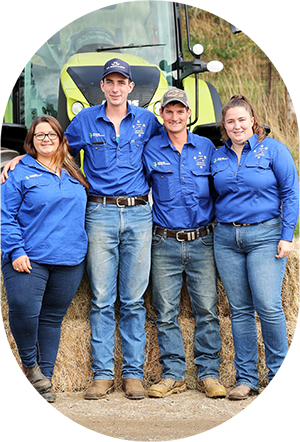 Victoria's best young sheep and cattle experts are ready for the Australian championships, thanks to Melbourne Royal's Emerging Leaders Group.  
Six teams competed in the first Melbourne Royal Australian Young Farmer Challenge State Final at Farm World at Lardner Park on 25 March. 
Teams came from right across the state to compete including Clunes, Sale, Foster and Melbourne, in addition to tertiary education teams including Melbourne Polytechnic. 
The intrepid teams competed in six challenges which included wrapping a snake bite, building a fence, shifting haybales, milking a cow, herding sheep and chopping wood. 
The final challenge – the tractor course held at the end of the day – was cause for much excitement as each team manoeuvred a tough course as fast as they could with the highest degree of skill. Teams also participated in a fun but tough quiz that was set at a national level. 
The Clunes & District Young Farmers team was the worthy winner on the day, taking out the state final. The team, made up of Jenny Redpath, William Quarterman, Mitchell Hepburn, Olivia Cross, will go on to represent Victoria at the Sydney Royal Easter Show on Easter Saturday, 16 April at 12pm in the Schmidt Arena. It's an incredible opportunity for Victoria's best young sheep and cattle experts to compete against their counterparts from all around Australia and have their talent and skills on show. If you are heading to the Sydney Royal Easter Show, make sure you join the crowd to cheer on our Victorian State Champions in the national final. 
Melbourne Royal Emerging Leaders also held their second Agri-Chat event at Farm World. Their expert panel discussion on 'Pathways into Dairy' was attended by the Young Farmer teams and the general public and presented a thoughtful insight into the industry. The Agri-Chat will be available to watch online on 14 April 2022. ​
A big thank you and congratulations goes to the Emerging Leaders Group, the judges, stewards and volunteers for their support in making this day successful. 
Melbourne Royal established the Emerging Leaders Group in 2021 to provide a pathway for young agri-professionals to develop their leadership and management skills along with building their industry knowledge and network to assist in their professional development. Read more about the group here.