Chief Executive Update - October 2021
27 Oct 2021 / Melbourne Royal News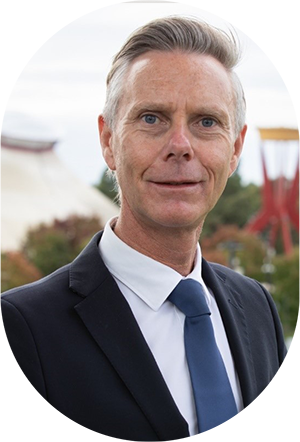 Spring into activating events!
It's time to spring into action and activate events in Victoria, and Melbourne Showgrounds is open for business.
The Melbourne Royal® team is excited with the prospect of events being held at Melbourne Showgrounds very soon. As Victoria's largest and most versatile indoor-outdoor venue, Melbourne Showgrounds can now hold outdoor events with a DQ2 (1 person or 2 sqm) limit up to 5,000 where staff and patrons are fully vaccinated.
Functions, conferences, awards ceremonies, weddings, music festivals, corporate family days and community events can all be held at Melbourne Showgrounds and in particular, the fabulous new Victoria Pavilion can hold up to 300 guests banquet style with DQ4 limit.
When Victoria reaches the 90 per cent double dose vaccination target for Victorians 12 years and over, predicted to be Wednesday 24 November:
Capacity limits or density quotients will be removed for all settings; and
There will be no restrictions for indoor and outdoor events provided they follow COVID Safe rules, including vaccination requirements.
In further positive news, the Australian Government has committed a further $25 million in 2021-22 to extend the Supporting Agricultural Shows and Field Days Program to 30 June 2022. To date, around 700 shows and field days have been cancelled as a result of COVID-19. The importance of Agricultural shows and field days can not be over stated as they contribute more than $1 billion to the economy annually, attract more than 6 million patrons and are supported by more than 50,000 volunteers. Following the cancellation of the Melbourne Royal® Show for the second consecutive year, we sincerely thank the Federal Minister for Agriculture, The Hon. David Littleproud MP for recognizing and valuing the importance of supporting Agricultural Shows. The media release link is provided for your reference.
During these times we need things to celebrate, and we will soon announce and celebrate the winners of the 2021 Melbourne Royal® Australian Distilled Spirits Awards (ADSA). A panel of forty expert judges from all around Australia recently came together online over three days to taste and assess a record 760 entries across the categories of spirits, bitters, liqueurs and aperitifs. I thank all judges along with the Head Judge, Seb Costello who generously volunteered their time to judge online over three days.
To judge the ADSA this year was an incredible achievement that required great innovation and commitment to overcome the challenges of COVID restrictions. Our valued partner, Plasdene Glass-Pak provided the packaging solution that enabled the more than 4,500 samples to be distributed to the judges in unmarked bottles, along with glassware provided by Plumm. We are most grateful to Plasdene Glass-Pak and Plumm for their support.
Since the Melbourne Royal® established these awards in 2015 with just 115 entries, the growth of the ADSA has been extraordinary. The growth is reflective of the importance distillers place on receiving valuable feedback from judges to inspire excellence and innovation along with the marketing value that comes from winning an ADSA medal or trophy. 
I thank and acknowledge the work of ADSA Industry Advisory Group members Sebastian Costello, Stuart Gregor and Sebastian Raeburn in assisting the Melbourne Royal® to successfully plan and deliver the judging online this year under challenging circumstances. I also thank the Australian Distillers Association for their ongoing support and involvement. 
Results of the 2021 ADSA will be announced at a formal presentation on Wednesday 1 December in the spectacular Victoria Pavilion at Melbourne Showgrounds. Guests will enjoy cocktails featuring trophy and gold medal-winning products and the menu has been designed by the incredible team from Dean and McPherson catering. Tickets for the event will go on sale in early November.
The next Melbourne Royal® event we are looking to celebrate is the Melbourne Royal® Wine Awards with judging scheduled for 15-18 November at Melbourne Showgrounds.  Established in 1884, the Melbourne Royal® Wine Awards (MRWA) is one of Australia's oldest and most respected wine shows recognising and rewarding excellence in Australian winemaking.
A range of COVID safe measures have been planned to ensure the health and safety of all involved in judging this year and I thank the Melbourne Royal® Wine Committee of Samantha Isherwood, Matt Harrop, Emma Brown, Jeni Port, Melanie Chester and Mark O'Callaghan for their support, counsel and commitment to enable judging to proceed this year.
The MRWA Presentation Dinner will be held on Thursday 2 December at the Melbourne Showgrounds Victoria Pavilion. Up to 32 trophies will be awarded on the night, culminating in the presentation of the coveted Jimmy Watson Memorial Trophy. A selection of the 2021 trophy-winning wines will be paired with a meal featuring winning produce from throughout Victoria. Of course, the evening wouldn't be complete without a taste of the newly announced Jimmy Watson winning wine! Tickets for the event will go on sale in early November.
Melbourne Showgrounds proudly remains the State's largest and most efficient COVID-19 recovery venue. The Showgrounds Vaccination Centre is administering up to 45,000 vaccinations each month and the Testing Site continues to scale up and down as required to meet community demand. Currently there are up to 13 testing lanes at Melbourne Showgrounds, operating out of the two largest pavilions and averaging around 1,500 daily COVID tests.
In closing, thank you for the positive response and feedback to our rebrand to Melbourne Royal®. The new branding signifies an exciting new era for our organisation as we look forward to celebrating a remarkable 175 years in 2023.
Our vision is for Melbourne Royal® to be globally recognised as a seal of excellence and highly valued for showcasing food and beverage, produce and producers; presenting premier events; and activating and delivering vibrant event spaces.
We will progressively rollout the new branding over the coming weeks and I trust you will enjoy being involved with the Melbourne Royal® for many years to come.
In the meantime, I look forward to keeping you well informed on all news from Melbourne Royal®. Please take care and do not hesitate to contact me should you have any queries.
Brad Jenkins
Chief Executive Officer
Melbourne Royal®