Fun foodie tips with Australian Food Awards Judge Alice Zaslavsky
07 Aug 2019 / Food
Culinary queen Alice "in frames" Zaslavsky is back on the Australian Food Awards scene, joining the program as a Champion judge for the fourth year. 
Alice has been up to plenty of foodie fun lately. She's on the airwaves offering tips to ABC Drive's Foodie Tuesday listeners, on TV bringing ABC News Breakfast viewers their monthly hit of seasonal foodspiration. In the kitchen, Alice is enjoying testing out recipes for her next cookbook, all while keeping her new baby entertained. And she's continuing to build on the success of Phenomenom – an engaging free digital toolkit for teachers, designed to educate and inspire primary school students about the wonders of fresh produce - so that kids can learn to embrace vegetables. 
We speak to Alice and get some advice so the whole family can prepare, cook and enjoy quality Australian produce.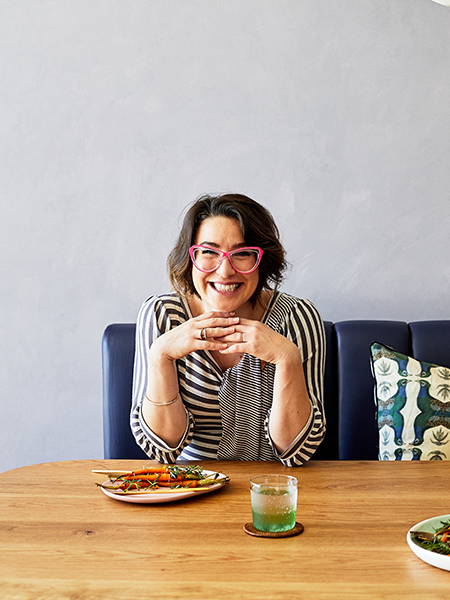 The last three years, the Champion product in the Australian Food Awards has been hazelnuts, honey and truffles. How would you encourage fussy kids to try flavoursome products like these? 
Well, I think what these three ingredients have in common, is that they're exactly as nature intended, with nothing added, and no bells and whistles. A lot of care and effort has gone into growing or producing each one, and they've all got a fantastic story to tell. Getting kids curious about the process of production - like learning that honey is actually bee vomit, or that truffles were once believed to grow only where lightning strikes, will get even the most reluctant eater to give something new a chance.  
The Awards has expanded to allow for more dietary-friendly products like vegan/dairy-free/sugar-free. Do you have any tips for preparing meals for children with different dietary preferences? 
I always cook with dietaries in mind, because these days, there's always someone at my table who's unable to eat one thing or another. That's why I like to serve up "create your own" dishes, like tacos, where everyone can put in exactly what they want. Removing the pressure of having to eat everything on their plate is a great way of ensuring they'll feel comfortable at the table, and giving them a sense of control over what their meal looks like will ensure they end up eating more of it.  
We're seeing more and more preserves such as jams, sauces and fermented veggies in the Awards. How can you lift a simple vegetable dish with preserves?
Oh, I love using jars of preserves and pickles when I'm cooking - because all of the hard work's been done for me! Adding kimchi to a salad or "Buddha bowl" (if you're fancy) is great for a spicy surprise, and sauerkraut is excellent in soups - especially the brine! I also really love having some olives in the pantry in case visitors come around, at which point I just whack them in a hot oven for ten minutes with some almonds, and out pops the quickest and easiest entertainer's snack ever!  
How can I get the kids to eat more veggies?  
I believe that the best way to encourage kids to go veg-forward is to cook with them, rather than for them. And in fact, kids can do plenty more for themselves in the kitchen than you might think! Try roasting some jacket potatoes - or sweet potatoes - and getting the kids to make up their own toppings, like say, herbs, sour cream, cheese, sautéed mushrooms, sweet corn, baked beans and/or whatever else their imagination comes up with, and turn it into a Masterchef-style plating challenge! If you help them build the base, then let them run wild to top things off, they'll rise to the occasion, feel proud of what they've created, and lick the plate clean (something else I entirely encourage at my table).  
The initial judging round of the Australian Food Awards wrapped up in July at Melbourne Showgrounds with 1400 products assessed. 
In August, Alice and the Champion judges – Adrian Richardson, Saskia Beer and Tony Dench will judge and rank the best products to determine which products are eligible for a trophy. 
The awards will be announced at the Australian Food Awards presentation dinner at the new Victoria Pavilion, Melbourne Showgrounds on Thursday 5 September ads part of Global Table.