Future rural leaders in the spotlight at the Melbourne Royal Show
28 Sep 2022
Victoria's rural ambassador for 2022 has been named as Alexandra Pattinson from Foster and District Agricultural Show in Gippsland.
The competition, jointly run by Victorian Agricultural Shows and Melbourne Royal, identifies and develops future leaders in agriculture, the Show movement and rural communities.
Alexandra was born and raised on her family's fourth generation beef and wool grazing property in the Macedon Ranges, where she grew up mustering on horseback, helping in the cattle yards or at shearing, she developed a love for agriculture.
After completing a masters degree with a research dissertation on maternal behaviour in cattle, Alexandra moved to South Gippsland where she has connected with her new farming community by organising a young farmers challenge.
Runner up was awarded to Katherine Bain who grew up on her family sheep property in western Victoria where she works today having completed a bachelor of agribusiness at Marcus Oldham College and after working as a business analyst for a large livestock company.
Katherine has been volunteering at the Beaufort Show for as long as she can remember – from folding ribbons for the horse show to helping pack up the dog trials.
As part of a weekend-long celebration of youth, two lucrative scholarships have been awarded at this year's Melbourne Royal Show for emerging leaders in the agriculture industry making a positive contribution to the future of Australian agriculture.
The Melbourne Royal Emerging Leader in Agriculture Victoria Award recognises an individual who has made, or is making a significant contribution to their respective field over a 12-month period. Prize money of $5000 to further their development is awarded to the winner who must be from Victoria and aged between 18 and 40. It was awarded to Matt Cooney (34) of Cann River for running the Australian Lowline feature show at this year's Melbourne Royal.
The Melbourne Royal Rising Star Award is designed to recognise younger individuals, aged between 16-30, within Agricultural Shows in Victoria who are demonstrating Melbourne Royal Values at a local or regional show level. The scholarship valued at $2000 was awarded to Tess Runting (23) of Mornington Peninsula for her involvement in Pakenham Show Society running the sheep and fleece section while highly commended was awarded to Abbie Hanks (17) of Camperdown. Since Abbie was four, she has attended local shows showing her dairy cattle and has travelled Australian showing cattle since, including to Sydney Royal and Royal Adelaide to volunteer her time to assist breeders, particularly older farmers exiting the industry, ensuring their cattle are optimally marketed for sale. She has been a guest speaker at her local Rotary Club on showing cattle and what is involved to be successful at the local shows.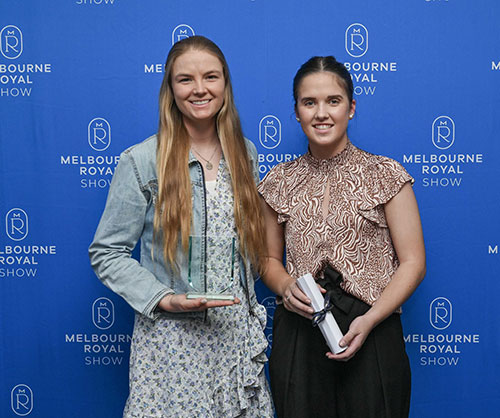 Pictured: Melbourne Royal Rising Star winner, Tess Runting and Melbourne Royal Rising Star Highly Commended, Abbey Hanks
In the ultimate test of skill and ability, the Australian young farmer challenge state final was run and won by the Wade Family of Stratford comprising Darcy Wade, Quinn Wade, Mackinley Glover and Michael Orchard while the reserve champions were the Foster Young Farmers comprising rural ambassador Alexandra Pattinson, Nathan Farrell, Sammy Spark, and Mike Van Diggelen. The relay-style event comprises multiple challenges, which are aimed at incorporating everyday farm life - extinguishing a fire, a first aid stretcher challenge, sorting grains, herding sheep, driving an all-terrain vehicle and rolling a haybale to the finish line. It's an intricate mix of skill and speed.
The successful team will attend the national finals to compete for prize money and the bragging rights of being the "best of the best'' across the country in the National Australian Young Farmer Challenge.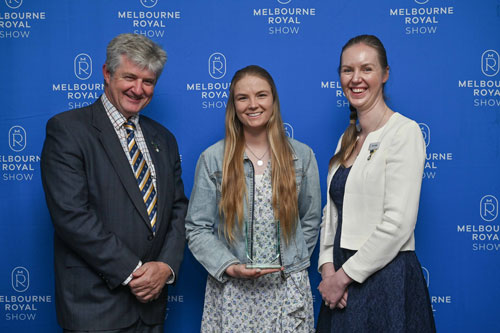 Pictured: Melbourne Royal President, Matt Coleman; Melbourne Royal Rising Star Award winner, Tess Runting; Melbourne Royal Emerging Leaders Group Chair, Grace Calder