Hentley Farm wins coveted Jimmy Watson Memorial Trophy
12 Dec 2022 / Wine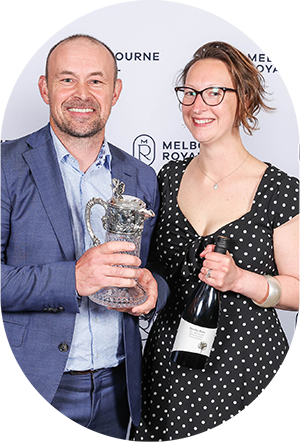 "It's the pinnacle wine award.
" - Barossa's Hentley Farm takes out the coveted Jimmy Watson Memorial Trophy for Best Young Red Wine.
Keith Hentschke has likened winning the prestigious Jimmy Watson Memorial Trophy to the heights of scaling Mt Everest.  
When Keith Hentschke set out to start a winery in South Australia's world-famous Barossa Valley, he couldn't find one suitable to buy, so he built one from scratch. He spent years consulting with local winemakers and viticulturalists to find the perfect spot for his vision. So, it's no fluke the team at Hentley Farm has created such delicious and award-winning wines.  
"To be recognised for the wine from the bare block vineyard I started back in 1999 is quite amazing," he said.  
Mr Hentschke said winning the Jimmy Watson Memorial Trophy for Best Young Red Wine with his very own 'Old Legend' Grenache is an achievement he's dreamed of his entire career. The award was established 60 years ago in 1962 and is the major award in the Melbourne Royal Wine Awards - one of Australia's oldest and most respected wine shows.  
"It's the pinnacle in wine awards, it's like climbing Mount Everest," he said. "Back in the early 90's there was only one major award you could possibly win and of course that was the Jimmy Watson, so for the majority of my career it's been the award to win, it's been in my mind forever." 
Winemaker Andrew Quin has been with Hentley Farm since 2008.  
"I can't believe we won the Jimmy Watson full stop," he said. "Everyone knows what a great vintage 21 was, but I think what makes it a successful wine is the lovely, full, soft tannin profile. You look at the colour, it's reasonably light, you smell it and it's pretty and aromatic but then you're surprised by how much tannin drive the wine has."  
He hopes the upcoming 2022 vintage that's set to be bottled by Christmas can now live up to the award-winning expectations. 
Hentschke is a different spelling to the other Barossa Henschke family, makers of Hill of Grace. But Keith Hentschke also had high expectations from the beginnings of his winery to achieve iconic status.  
"They (Henschke) are an amazing winery and I do think that they hold the mantle for being one of Australia's most recognised premium wineries," he said. "For most of my wine journey people always ask if I'm related to the Henschke's, of course the ones without the "t" but more recently I've been asked are the other Henschke's related to me, so maybe it's just starting to turn the other way," Mr Hentschke smiles. 
The team at Hentley Farm is now feeling the pressure to build on its success.  
"I suspect this feels like breaking a world record or winning gold at the Olympics, so it might take us a while to decide where to go from here," Mr Hentschke said. "But one thing we are going to do is celebrate and I think over this next year, maybe more, we will be celebrating this award around the country with our amazing customers."