Hundreds of alpacas to compete for top spot at 2023 Melbourne Royal Show; entries closing soon!
26 Jul 2023 / Melbourne Royal Competitions, Alpaca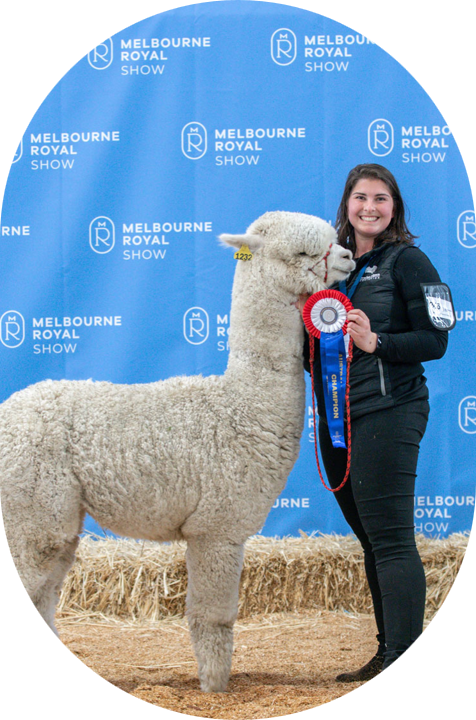 More than 200 alpacas will make their mark on the Melbourne Royal Show in September as some of the best animals and fleece from around Australia are showcased in the Melbourne Royal Alpaca Competition.
Winning a treasured blue ribbon will be even sweeter this year as Melbourne Royal celebrates 175 years with commemorative ribbons and prizes.

The 2022 Melbourne Royal Show marked 30 years of alpacas at Melbourne Royal – the first alpaca show in Australia – and Chair of the Alpaca Committee, Rochelle Veitch, said this year's competition is shaping up to be even bigger and better with a renowned international judge set to benchmark Australia's finest alpacas.

"Our 30 year display was magnificent to see the progression of where alpacas are now to where they were; quality has exceeded expectations in a very short time and we've got alpacas carrying fleece quite similar to wool," she said.
"Robin Nasemann is judging for the first time in Melbourne this year and he is highly acclaimed, coming all the way from Germany, and it's certainly quite a coup for us to have Robin."

Robin has judged several alpaca shows in France and Canada, gives frequent seminars about alpacas across Europe and has a herd of 70 alpacas in the west of Germany. He'll be awarding prizes in all categories, including the pinnacle event, Best in Show, to be judged on Saturday, September 23.

"Alpacas are judged on their fleece traits and confirmation; 30 per cent to confirmation, and 70 per cent to fleece," Rochelle said.

"The judge will be looking for animals on well-balanced frames, good growth for age, a commercial fleece, fleece that's fine in micron density, great uniformity, and a long fleece that will be good to shear off and have made into alpaca garments. The alpaca that wins best in show will be the one that has the most of those traits."

Precision Alpaca Group from Baynton, Victoria, enjoyed double success at the Melbourne Royal Alpaca Show Competition in 2022, taking out the Alpaca Supreme Champion in both categories; the two major breed sections of Suri and Huacaya.

Exhibited by Taryan and Max Mathews, Pacofino Bacardi was awarded Supreme Champion Suri, and Precision Hyperion took out Supreme Champion Huacaya.

Entries for this year's Melbourne Royal Alpaca Competition now open and will close on Monday, July 31. The competition will run from Thursday, September 21 to Saturday, September 23 and is set to be a highlight for the public during the first weekend of the Melbourne Royal Show.

About the Melbourne Royal Alpaca Competition
The Melbourne Royal Alpaca Competition is a platform to celebrate excellence, innovation and advancements in the alpaca industry. It showcases and benchmarks some of the best alpacas and alpaca fleece from around Australia and provides exhibitors with valuable networking opportunities and a dedicated event space. The competition is split into two major breed sections, Suri and Huacaya. Rather than the bright, crimpy fleece of the Huacaya, the Suri has a long hanging, dreadlock type lustrous fleece that hangs close to the body.

For more information about the competition visit https://www.melbourneroyal.com.au/alpaca-competition/