Lamb of Tasmania awarded Champion Australian Product at Australian Food Awards
06 Sep 2019 / Food
Lamb of Tasmania from Tasmanian Quality Meats, has been named Champion Australian Product, at the Australian Food Awards (AFA) presentation last night held in the new Victoria Pavilion at Melbourne Showgrounds.
Hosted annually by the Royal Agricultural Society of Victoria (RASV), the AFA is Australia's leading food awards program, celebrating excellence and recognising the best food producers in Australia. Categories included; Beverages, Convenience Foods, Dairy, Frozen Dessert, Meat, Pantry Goods, Preserves, Produce, Seafood and Value-Add Grain Product.
The AFA presentation evening saw industry leaders and experts worldwide come together to celebrate the best Australian produce, with 14 champion trophies awarded in total, including Champion Australian Product and Champion Australian Small, Medium and Large Producer / Manufacturer.
Tasmania was well represented on the night, taking out five of the top 14 champion spots, including Champion Australian Preserve, awarded to Rocky Gardens for Whisky Marmalade; Champion Australian Produce, awarded to Australian Honey Products for Cradle Mountain Honey GMO Free; Champion Australian Frozen Dessert, awarded to Van Diemens Land Creamery for their Pepperberry and Leatherwood Honey Ice Cream; and Champion Australian Meat, which went on to earn Tasmanian Quality Meats the coveted top spot for their product Lamb of Tasmania.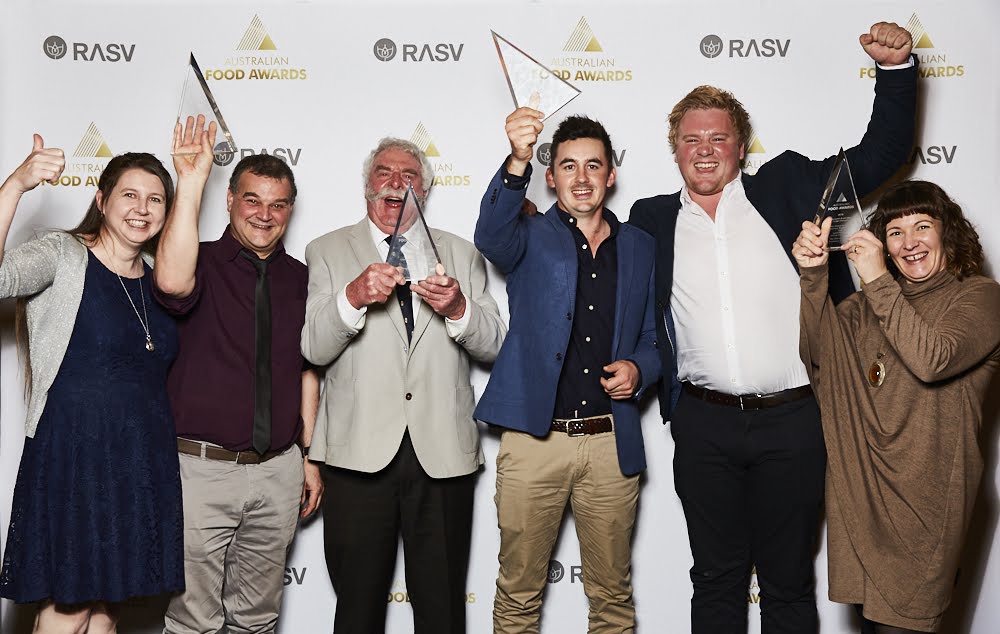 Tasmanian Champion Trophy Winners in the 2019 Australian Food Awards


Victoria and Western Australia closely followed the impressive number of champion awards, with four and three champion trophies awarded, respectively.
Reflecting on another successful night for the industry, Paul Guerra, CEO, RASV said 2019 delivered a remarkable calibre of entries.
"The Australian Food Awards is Australia's leading food awards program, offering producers from all over Australia, large and small, the opportunity to benchmark their product against industry standards and gain valuable feedback from a panel of expert judges."
"The significant growth in entries this year indicates the Australian Food Awards are highly respected as a valuable platform for industry benchmarking. There is also growing recognition of the significant marketing value of being a medal winner in the Australian Food Awards and the unique opportunity it offers to promote the medal on their product as a seal of excellence". Mr Guerra concluded.
All results including medal winners are now available at here.
Find us on Instagram and Facebook using #AusFoodAwards


Australian Food Awards Champion Products 2019:
Champion Australian Product
Lamb of Tasmania – Tasmanian Quality Meats Pty Ltd, Tasmania
Champion Australian Beverage
Juice Culture Envy – Juice Culture, Victoria
Champion Australian Convenience Food
Riverview Farms Hot Roast Pork with Crackle – Rivalea Australia
Champion Australian Dairy
Prom Country Cheese Cheviot Royale – Prom Country Cheese, Victoria
Champion Australian Frozen Dessert
Van Diemens Land Creamery Pepperberry and Leatherwood Honey Ice Cream, Van Diemens Land Creamery, Tasmania
Champion Australian Meat
Lamb of Tasmania – Tasmanian Quality Meats Pty Ltd, Tasmania
Champion Australian Pantry Goods
Turmeric Spice Magic, Latasha's Kitchen, Western Australia
Champion Australian Preserve
Whisky Marmalade - Rocky Gardens, Tasmania
Champion Australian Produce
Cradle Mountain Honey GMO Free – Australian Honey Products Pty Ltd, Tasmania
Champion Australian Seafood
Geraldton Kingfish – Indian Ocean Fresh Australia Pty Ltd, Western Australia
Champion Australian Value-Add Grain Product
Traditional Nordic Crackers – Mette is Baking, Western Australia
Champion Australian Large Producer / Manufacturer
Floridia Cheese, Victoria
Champion Australian Medium Producer / Manufacturer
Main Ridge Dairy, Victoria
Champion Australian Small Producer / Manufacturer
Metiisto Chocolate Pty Ltd, Queensland
For all media enquiries, please contact RASV:
Grant Coverdale, Communications Manager
grant.coverdale@rasv.com.au | 0427 015 552