Melbourne Royal 175th Commemorative Book now available
25 Aug 2023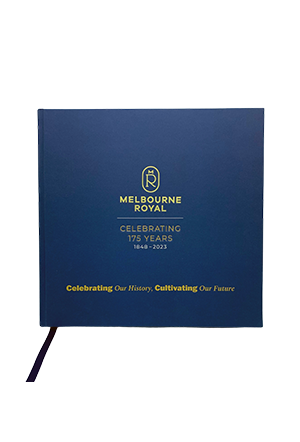 The Melbourne Royal 175th Commemorative Book has arrived and is now available for order. 
This stunning coffee table style 160-page, hardcover book details some incredible memories, moments and innovations throughout Melbourne Royal's rich 175-year history.  
Melbourne Royal is pleased to present a carefully selected range of limited-edition memorabilia, including beautifully crafted items such as celebratory scarves, ties, commemorative alcohol, and this special 175th Anniversary book. Whether you're a seasoned collector or simply seeking a unique keepsake, this collection of memorabilia perfectly embodies Melbourne Royal's identity as 'cultivators of happiness' and pays a fitting tribute to its 175-year legacy. 
For those attending the 2023 Melbourne Royal Show from September 21 – October 1, please help us celebrate this milestone and learn more about 175 years of Melbourne Royal by visiting the Melbourne Royal Museum in the Arena Bar, interact with the historic timeline wall along the Poultry Pavilion, and by viewing various heritage displays in competition areas. 
The Governor-General, His Excellency David Hurley, will officially open the 2023 Melbourne Royal Show at 11.30am on the Horses in Action Arena on the opening day, Thursday 21 September. 
In celebration of 175 years of Melbourne Royal, 100 personnel of Australia's Federation Guard will be present along with the Air Force Band, with a flypast by an Air Force Roulette aircraft and historic aircraft from No 100 Squadron to formally mark the arrival the Governor-General.