Melbourne Royal Horses in Action Competition set to showcase the best in equine excellence
19 Jun 2023 / Horses, Agriculture, Royal Melbourne Show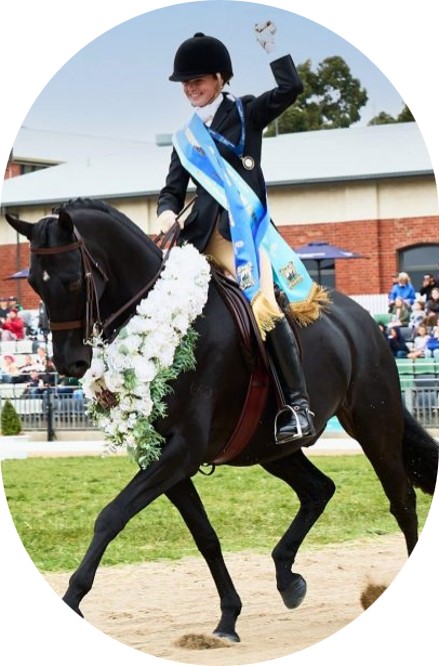 Australia's most skilled riders will be saddling up in September at the 2023 Melbourne Royal Show as the Melbourne Royal Horses in Action Competition showcases the best in equine excellence.

Winning a treasured blue ribbon will be even sweeter this year as Melbourne Royal celebrates 175 years with commemorative ribbons and prizes.

Horses and riders will be tested in every ring; from the world-class jumping course in the 2023 Melbourne Royal Prince of Wales Cup (first awarded in 1971), to the ultimate in presentation perfection, the Garryowen Equestrienne Turnout. 


The prestigious Garryowen Equestrienne Turnout will celebrate its 89th year in 2023 with a prize pool of $11,000 –  the biggest in the competition's history. 
The Garryowen is said to be the most coveted show horse title for lady riders in Australia and is named after a three-time Melbourne Royal Show champion saddle horse whose owner 29-year-old Violet Murrell died tragically whilst trying to save him from a stable fire in 1934. For the Garryowen Perpetual Trophy, horses and riders are judged on manners and paces, riding, saddlery, conformation, soundness and general appearance. The competitors dress in traditional English hunting attire: woollen breaches, black woollen coat, lanyard, stock, hairnet and, of course, a white gardenia pinned to their breast.
Ebony Lee (pictured) from Tamrie Park Stud in Yea, Victoria won the Garryowen Equestrienne Turnout at the 2022 Melbourne Royal Show. At just 20-years-old, Ebony was the youngest competitor in the Garryowen, and a first-time Garryowen entrant.
The Melbourne Royal Horses in Action Competition will be held from Thursday, September 21 to Sunday, October 1 at Melbourne Showgrounds. The program includes saddle horses, riding classes, showjumping, stock horses, Clydesdales, hunting and harness, and celebrates the best horses and riders.
All competitors are encouraged to ensure their entries are in for what is shaping up to be an exciting 11-day program of back-to-back horses in action. 
Horse competitions have been an integral part of the Melbourne Royal program since the first competition was held in 1842. The competition now sees more than 2,300 entries and 400 exhibitors each year competing across more than 380 classes. 2023 will mark the 89th Garryowen Equestrienne Turnout, the 74th Alice Laidlaw Trophy and the highly anticipated Prince of Wales Cup in showjumping. 
Entries for the Melbourne Royal Horses in Action Competition close on Monday, June 19 (saddle, harness and stock horse), Friday, June 30 (show jumping) and Monday, August 7 (hunting). 
For more information about the competition, click here.