South Australian, Victorian and Tasmanian wineries take out major trophies
26 Oct 2022 / Wine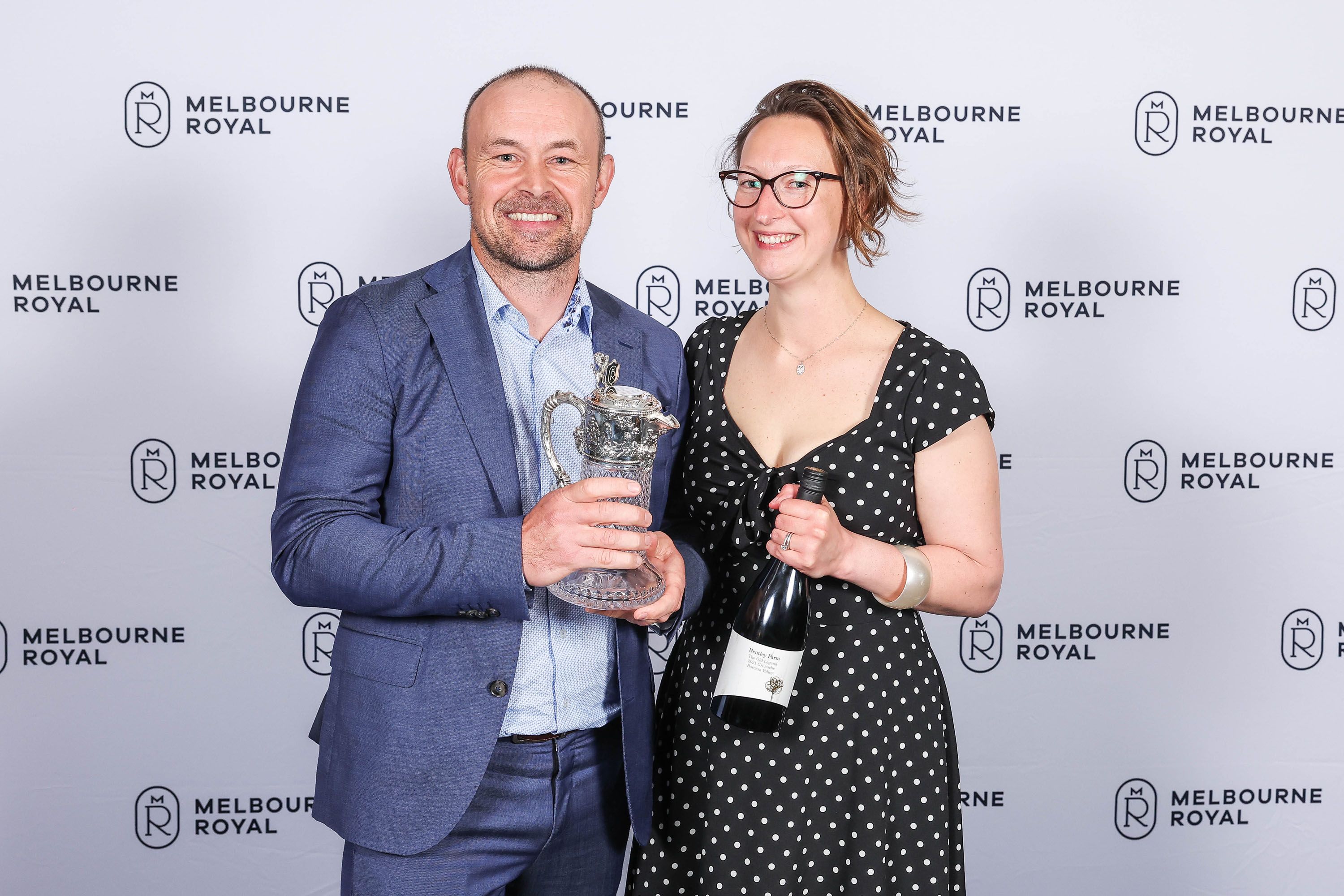 South Australian, Victorian and Tasmanian wineries take out major trophies
The winners of the 2022 Melbourne Royal Wine Awards were announced at the Trophy Presentation in the Victoria Pavilion at Melbourne Showgrounds last Thursday, October 27.
The Barossa Valley's Hentley Farm Wines was awarded the coveted Jimmy Watson Memorial Trophy for Best Young Red Wine, first awarded 60 years ago in 1962, for their 'The Old Legend', 2021 Grenache. This is the first time the 25 year-old Hentley Farm Wines have been awarded the Jimmy Watson Memorial Trophy.
In another coup for South Australia, the François de Castella Trophy for Best Young White Wine went to Adelaide Hill's Longview Vineyard for their 'Macclesfield' Grüner Veltliner 2022. This is the first time in a significant number of years that 'The Francois' has gone to a variety other than Chardonnay.
Longview Vineyard's 'Macclesfield' Grüner Veltliner also won Best Single Varietal White Wine, as well as Best Pinot Gris/Grigio for its 'Queenie' Pinot Grigio 2022, and Best Cabernet Sauvignon for its 'Devil's Elbow' Cabernet Sauvignon 2021.
The Champion Victorian Winery Trophy was awarded to Yarra Valley's Oakridge Wines, and Geelong's Scotchmans Hill was awarded The Trevor Mast Trophy for Best Shiraz for its 2021 Shiraz. This wine was also awarded Best Victorian Shiraz.
The Douglas Seabrook Trophy for Best Single Vineyard Wine went to 'Black Label Emerald Syrah' 2021 from Tasmania's Gala Estate. This wine also took out Best Tasmanian Shiraz, and the viticultural team at Gala Estate was also awarded The Kym Ludvigsen Trophy for Viticultural Excellence.
Tasmanian wineries continued to garner major award wins with the Dr Tony Jordan Trophy for Best Sparkling going to House of Arras Grand Vintage for its 2014 Chardonnay. For the seventh consecutive year, the James Halliday Trophy for Best Pinot Noir has gone to a Tasmanian winery. This year, Lowestoft Estate Wines was once again awarded for their 'La Maison' Pinot Noir 2021 for the second year in a row.
Melbourne Royal looks forward to celebrating and promoting these achievements with you over the coming months and to the Awards continuing to provide your winery with benchmarking opportunities and industry celebrations that recognise and reward the ongoing success of Australian wine.
2022 Melbourne Royal Wine Awards Trophy Winning Wines
Best Riesling Presented by MCC Labels
Naked Run Riesling, 2022 Riesling
Naked Run Wines, Clare Valley, SA
Best Semillon Belford Semillon, 2017 Semillon
Tyrrell's Vineyards, Hunter, NSW
Best Sauvignon Blanc          
Lobethal Road, 2022 Sauvignon Blanc
Lobethal Road, Adelaide Hills, SA

Best Pinot Gris/Grigio        
Queenie Pinot Grigio, 2022 Pinot Grigio
Longview Vineyard, Adelaide Hills, SA
Best Single Varietal White
Macclesfield Grüner Veltliner, 2022 Grüner Veltliner
Longview Vineyard, Adelaide Hills, SA
Best Victorian Chardonnay
Indigo Vineyard Secret Village Chardonnay, 2021 Chardonnay
Indigo Vineyard, Beechworth, VIC
Best Tasmanian Chardonnay         
Lost Farm Chardonnay, 2021 Chardonnay
Lost Farm Wines, TAS
Best South Australian Chardonnay           
Orlando Lyndale Chardonnay, 2021 Chardonnay
Orlando Wines, Adelaide Hills, SA
Best Western Australian Chardonnay
Arlewood Chardonnay, 2021 Chardonnay
Arlewood Estate, Margaret River, WA
Best Queensland Chardonnay
Not Awarded
Best New South Wales (incl ACT) Chardonnay   
2021 Maragle Vineyard Chardonnay, 2021 Chardonnay
Brokenwood Wines, Central Ranges, NSW
Best Chardonnay Presented by Plumm    
Orlando Lyndale Chardonnay, 2021 Chardonnay
Orlando Wines, Adelaide Hills, SA
Best White Blend     
Hahndorf Hill Brother Nature Field Blend, 2022 Field Blend
Hahndorf Hill Winery, SA
Best Sweet White Wine       
Noble One, 2019 Semillon
De Bortoli Wines, Hunter, NSW
Best Rosé       
Pauletts Sangiovese Rosé, 2022 Sangiovese
Paulett Wines, Clare Valley, SA
Best Grenache
The Old Legend, 2021 Grenache
Hentley Farm, Barossa Valley, SA
Best Victorian Shiraz          
Scotchmans Hill, 2021 Shiraz
Scotchmans Hill, Geelong, VIC
Best Tasmanian Shiraz       
Black Label Emerald Syrah , 2021 Shiraz
Gala Estate, TAS
Best South Australian Shiraz         
Murdoch Hill Orion Syrah, 2021 Shiraz
Murdoch Hill Wines, Adelaide Hills, SA
Best Western Australian Shiraz     
Brash Road Vineyard Syrah, 2020 Shiraz
Brash Road Vineyard, Margaret River, WA
Best Queensland Shiraz      
Not Awarded
Best New South Wales (incl ACT) Shiraz 
Cullarin Syrah, 2019 Shiraz
Eden Road Wine Company, ACT
Best Cabernet Sauvignon    
Devil's Elbow Cabernet Sauvignon, 2021 Cabernet Sauvignon
Longview Vineyard, Adelaide Hills, SA
Best Red Blend         
Yarra Yering Dry Red Wine No 3, 2021 Touriga Nacional, Tinta Cao Blend
Yarra Yering, Yarra Valley, VIC
Best Single Varietal Red     
2021 S.C. Pannell National Touriga, 2021 Touriga
Pannell Enoteca, McLaren Vale, SA
Best Organic or Biodynamic Wine Trophy          
Gnadenfrei Red I, 2021 Grenache Mourvédre Shiraz
Tscharke Wines, Barossa Valley, SA
Consistency of Excellence
Morris Wines - Old Premium Rare Topaque
Tyrrell's Vineyards - Belford Semillon, 2017
Xanadu Wines - Xanadu Cabernet Sauvignon, 2020
Hardys - Hardys HRB Shiraz, 2019
The Dr Tony Jordan Trophy for Best Sparkling
House of Arras Grand Vintage Chardonnay, 2014
House of Arras, Tasmania
The Douglas Seabrook Trophy for Best Single Vineyard Wine 
Black Label Emerald Syrah , 2021 Shiraz
Gala Estate, TAS
The Kym Ludvigsen Trophy for Viticultural Excellence
Viticulturalist Marty Smith
Gala Estate, TAS
The Bill Chambers Trophy for Best Fortified Wine        
Morris Old Premium Rare Muscat, NV Brown Muscat
Morris Wines, Rutherglen, VIC
The James Halliday Trophy for Best Pinot Noir  
Lowestoft La Maison Pinot Noir, 2021 Pinot Noir
Lowestoft Estate Wines, TAS
The Trevor Mast Trophy for Best Shiraz 
Scotchmans Hill, 2021 Shiraz
Scotchmans Hill, Geelong, VIC
The Champion Victorian Winery Trophy
Oakridge Wines
Yarra Valley, VIC
The François De Castella Trophy for Best Young White Wine  
Macclesfield Grüner Veltliner, 2022 Grüner Veltliner
Longview Vineyard, Adelaide Hills, SA
The Jimmy Watson Memorial Trophy For Best Young Red Wine           
The Old Legend, 2021 Grenache
Hentley Farm, Barossa Valley, SA