Supreme Champion Alpacas Crowned at Melbourne Royal Show
24 Sep 2023 / Alpaca, Melbourne Royal Competitions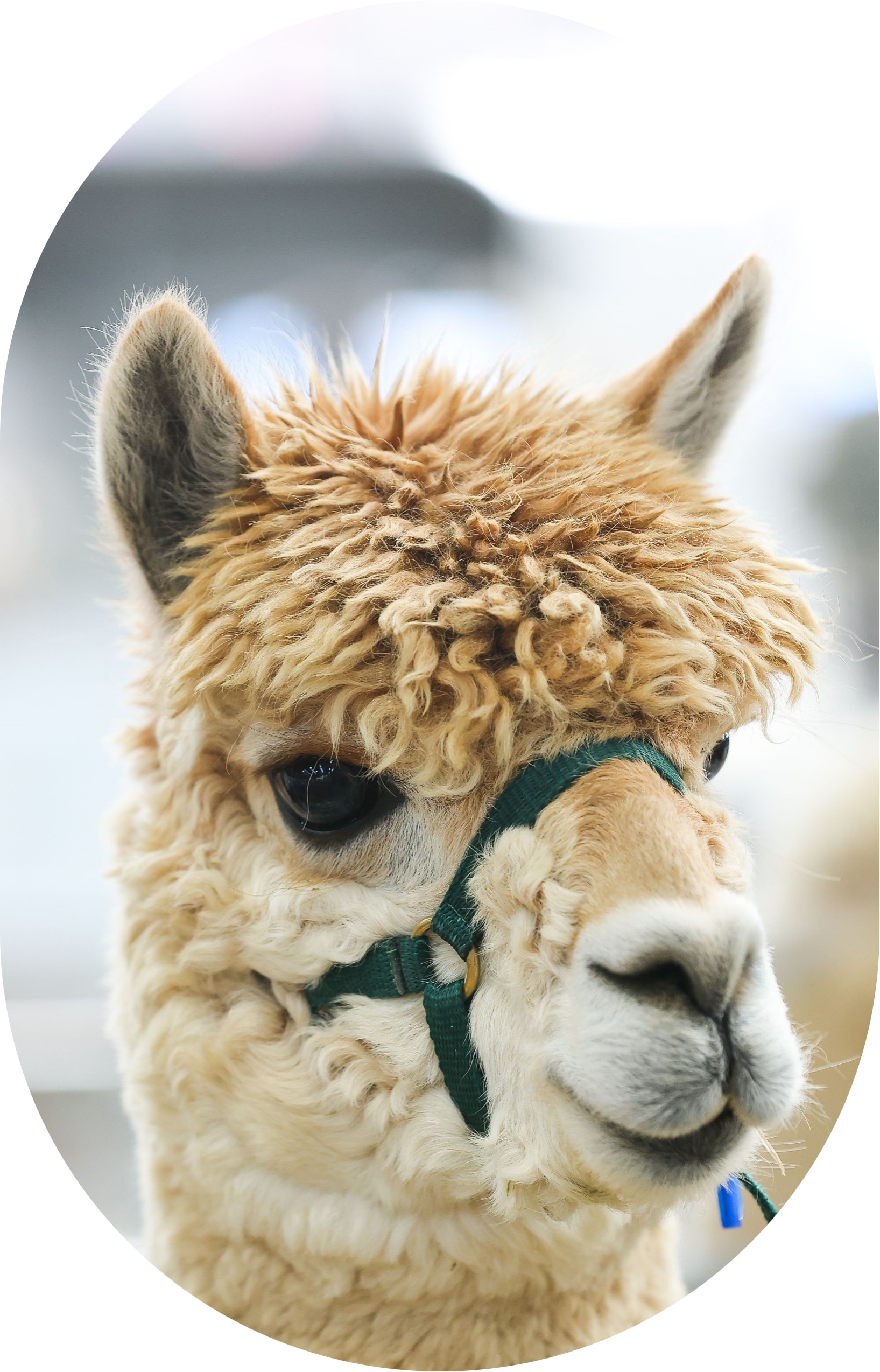 The 2023 Melbourne Royal Alpaca Competition, held from Thursday, September 21 to Saturday, September 23, concluded with a celebration of exceptional alpaca breeds, showcasing the finest examples of both Suri and Huacaya alpacas in both the halter and fleece sections.
This prestigious event drew alpaca enthusiasts, breeders, and judges from across the country. The results were nothing short of remarkable, with several alpacas standing out as supreme champions.
In the halter section, it was ultimately Ambersun Luminosa, a 1.5 year old white female, owned by Adrienne Clarke of Ambersun Alpacas that took out the Supreme Champion title in the Huacaya breed. This female impressed the judge with its strong frame and fine fleece.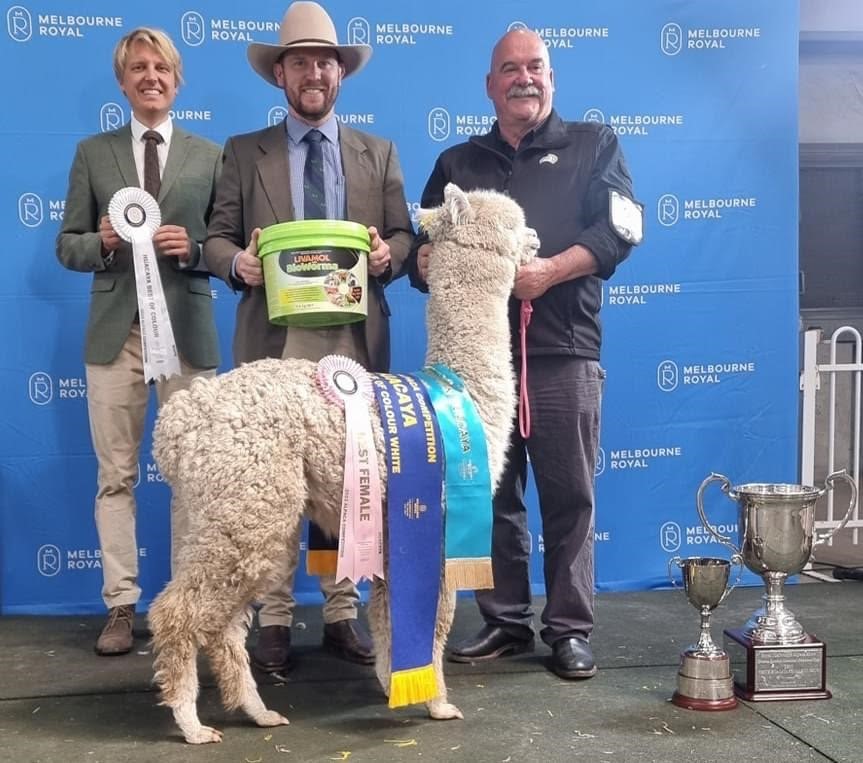 The spotlight moved quickly, however, to Chakana Blue Time Machine, owned by Julie Blake of Chakana Blue Suri Alpacas, who claimed the coveted title of Supreme Champion suri. This remarkable Mature White Male dazzled the judge with its well-balanced frame, good growth, fine fleece and excellent uniformity, so much so that Time Machine was also awarded Best in Show. "At 75 months old he is really out of this world," said owner Julie Blake. "We love him and he is now giving us the most outstanding progeny - his little daughter "Precision Showtime" won best female Suri alongside him today," she said.
Chakana Blue Time Machine, owned by Julie Blake of Chakana Blue Suri Alpacas, won Supreme Champion Sufi and Best in Show at the 2023 Melbourne Royal Show. In the fleece section, Pacofino Bacardi, a solid, light fawn male, owned by Max and Taryan Matthews of Precision Alpaca Group, was crowned Supreme Champion Suri Fleece.
And, in an impressive clean-sweep, Max and Taryan Matthews of Precision Alpaca Group also took home the Supreme Champion Huacaya Fleece for their solid white male, Precision Sceptre, who's fleece also won Best in Show.
Chair of the Alpaca Committee, Rochelle Veitch, said that this year's competition was bigger and better than ever, particularly thanks to renowned international judge Robin Nasemann who did an excellent job benchmarking some of Australia's finest alpacas. "Robin is a highly acclaimed international judge who came to us all the way from Germany," said Rochelle. "He had a very consistent style of judging with informative critiques regarding both conformation and fleece. It was certainly quite a coup for us to have him," she said.
With more than 200 alpacas competing at this year's special 175th year anniversary, well-deserving winners will treasure their commemorative ribbons and prizes for many more years to come.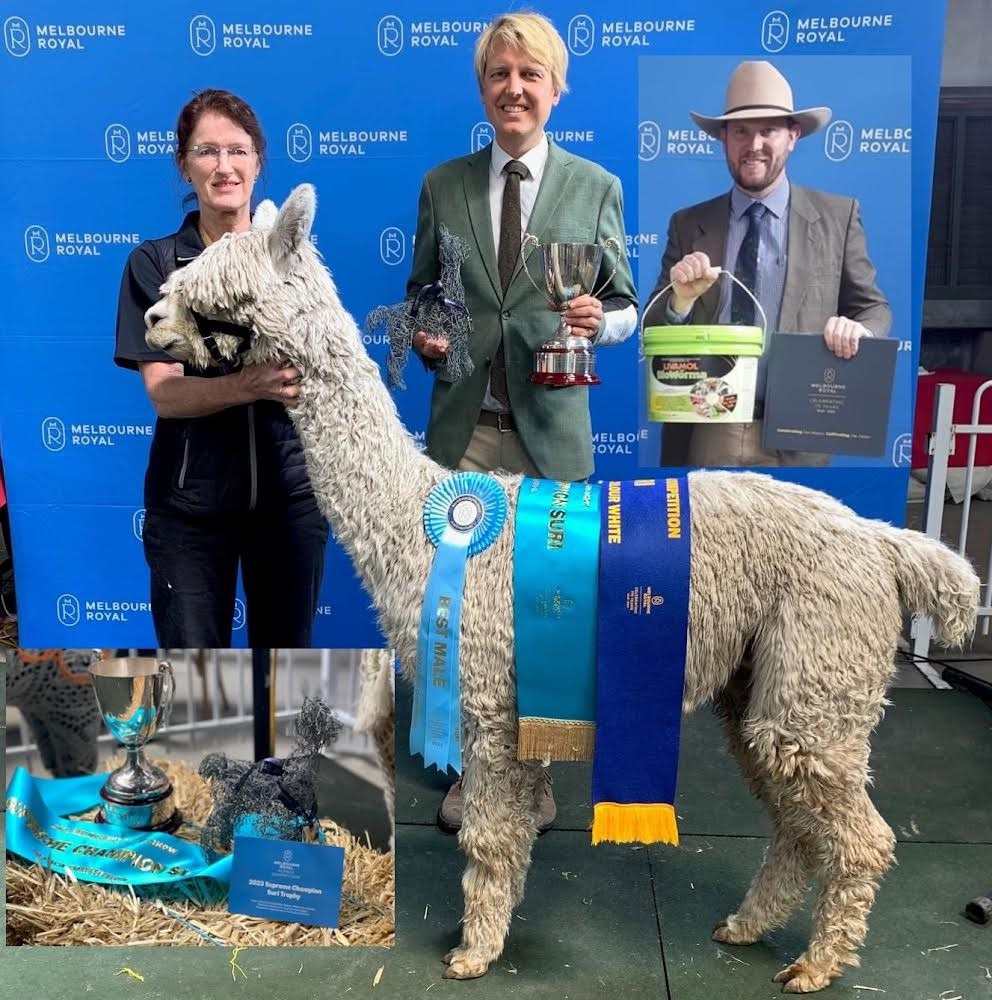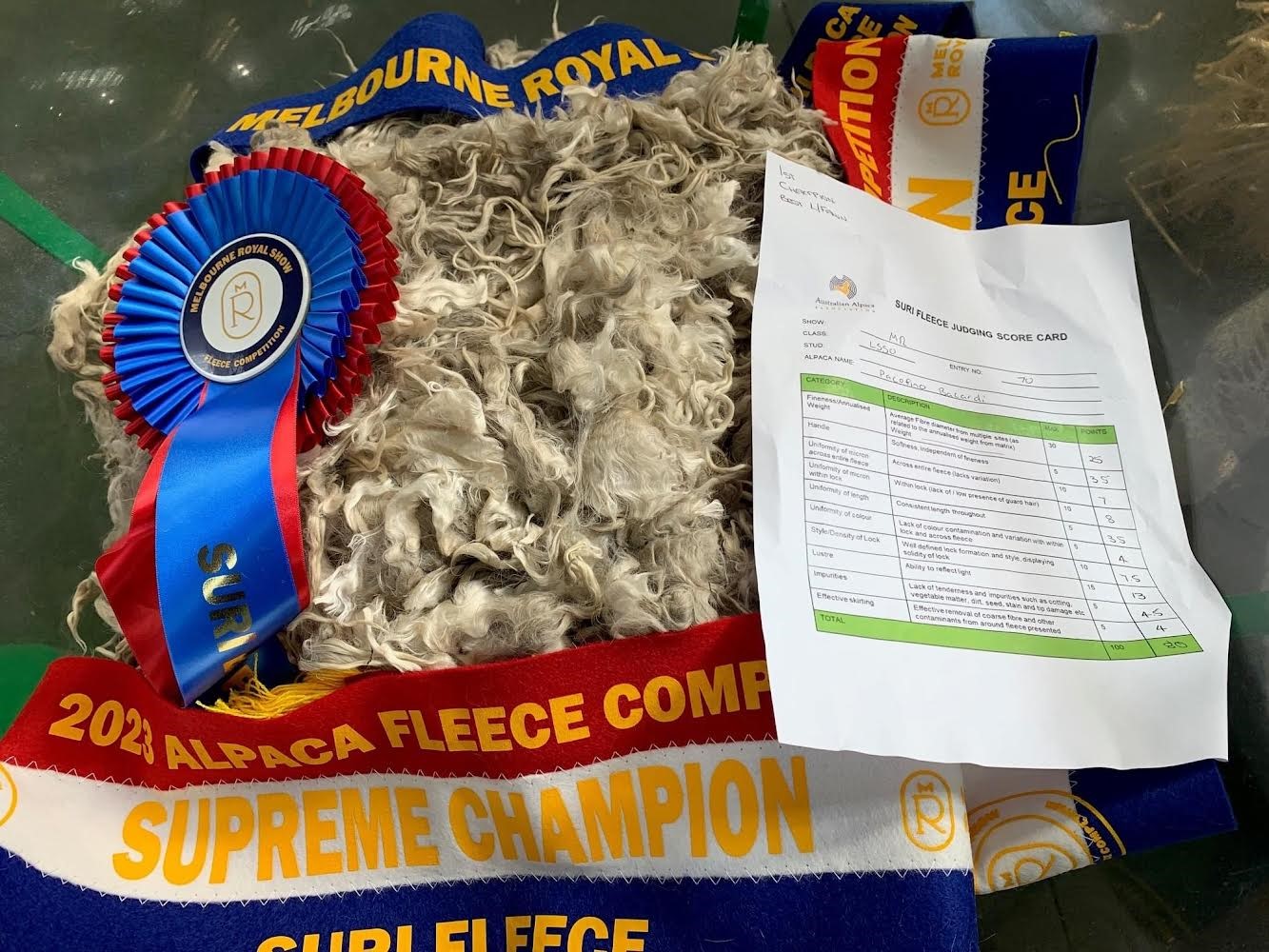 About the Melbourne Royal Alpaca Competition
The Melbourne Royal Alpaca Competition is a platform to celebrate excellence, innovation and advancements in the alpaca industry. It showcases and benchmarks some of the best alpacas and alpaca fleece from around Australia and provides exhibitors with valuable networking opportunities and a dedicated event space. The competition is split into two major breed sections, Suri and Huacaya. Rather than the bright, crimpy fleece of the Huacaya, the Suri has a long hanging, dreadlock type lustrous fleece that hangs close to the body.