The Veronicas to headline all new live music program for the first time at the 2022 Melbourne Royal Show, in partnership with Live Nation
21 Jul 2022 / Melbourne Royal News, Melbourne Showgrounds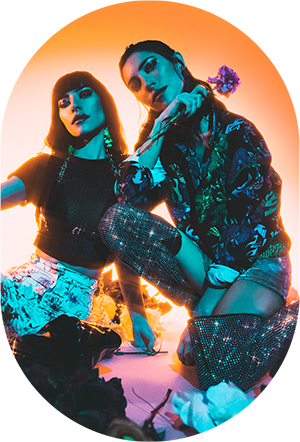 Melbourne Royal has today announced a new partnership with Live Nation to curate fabulous newest addition for the 2022 Melbourne Royal Show -The Show After Dark live music program.
The Show After Dark will feature 11 nights of show-stopping live music from Saturday 22 September to Sunday 2 October and feature a massive line up of amazing artists, to be headlined by The Veronicas, Baker Boy and Sneaky Sound System.
"We are super excited that the Melbourne Royal Show is back in 2022 and to celebrate we are amplifying the entertainment value and introducing The Show After Dark live music program curated by Live Nation. With the support of Live Nation, we are thrilled to present some of Australia's best established and up-and-coming musical talent to perform at the 2022 Melbourne Royal Show for Victorians to enjoy," said Melbourne Royal Chief Executive Officer, Brad Jenkins.
An all-star line-up of Australian artists will keep crowds pouring into Melbourne Showgrounds after dark, with one artist to play a set of their greatest hits each night.
Damien Costin, Live Nation General Manager –Special Events said, "Here at Live Nation we are all about celebrating home-grown talent and are excited to work with Melbourne Royal to bring the best of Australia's live scene to the Show for the first time."
The musical headliners for the 2022 Melbourne Royal Show will include:
The Veronicas
Sneaky Sound System
Baker Boy
Bag Raiders
British India
Havana Brown
Vika & Linda
Touch Sensitive
Greta Ray
Motor Ace
Owl Eyes
The offering in the new entertainment precinct will also include Airtime FMX and Show favourite, Grand Illusionist, Cosentino, alongside an enthralling laser light show and plethora of food and beverage offerings.
For those wanting to experience The Show After Dark, great value tickets will be available for entry after 5pm for only $25.
"We hope this new addition to our program will encourage more people than ever before to head to Melbourne Showgrounds. With so much incredible entertainment for such great value, The Show After Dark, is the perfect event to head to after work with friends to catch up and get together," said Jenkins.
For further information head to https://royalshow.com.au/. Ticket on sale date to be released.
Media Contact
For more information, high-res imagery or interviews on this story, please contact:
Ashleigh Bonica, AMPR
P: 0407 866 822 | Email: ashleigh@ampr.com.au
Katie Scanlan, AMPR
P: 0413 512 050 | Email: katie@ampr.com.au