Top dogs and international judges to be unleashed at 2023 Melbourne Royal Show
25 Jul 2023 / Melbourne Royal Competitions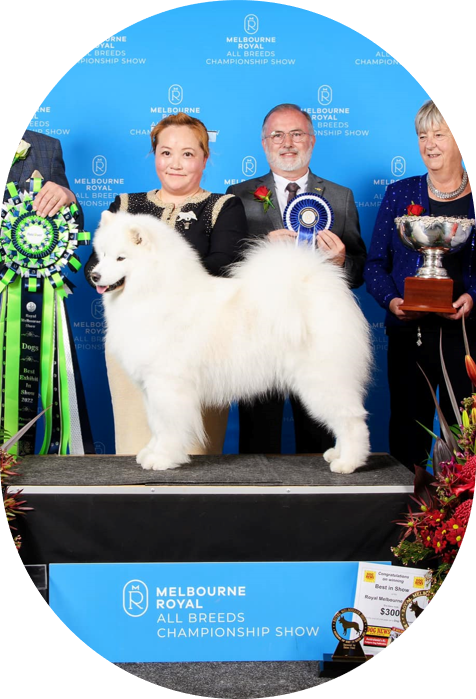 Five thousand classes, 3000 entries, 200 breeds and four international judges will culminate in one of the largest and most prestigious events in the Southern Hemisphere – the Melbourne Royal All Breeds Championship Dog Show.
The glory of winning at one of the country's most preeminent shows will be intensified this year as Melbourne Royal celebrates 175 years with commemorative ribbons and prizes.
The Melbourne Royal dog competition is shaping up to be nine days of non-stop action; from the crowd-pleasing Action Dog program, dog grooming competition and the junior handlers; to the presentation of the pinnacle prize, Best in Show on Saturday, September 30.
"The atmosphere on that day will be absolutely electric," committee member Gael Wilcox said.
"Best in Show is the culmination of eight days of breed judging, followed by the finals, and the judge will be looking for the dog that most closely fits the standard for that breed, is well-conditioned and well-presented."
Last year's Best in Show was taken out by a Samoyed by the name of Panda, exhibited by Helen Chen, pictured above.
Helen described Panda as a dog that "loves the ring, the crowds and the people, has produced three litters during her show career yet still looks her best, and a dog that is almost perfect in every way."
The 2023 Best in Show will be livestreamed on the Melbourne Royal website.
An four-person lineup of international judges has been assembled for the conformation classes, together with an astute panel of Australian judges adjudicating over the Action Dog and Sweepstakes competitions.
The international judges include Annika Ulltveit-Moe from Sweden, Zeljko Gavic from Slovenia, Gerardo Parlucci from Argentina, and Dr Gyorgy Tesics from Hungary.
"All four international judges are extremely well-respected, outstanding judges of the highest calibre and we're very excited to welcome them to the Melbourne Royal All Breeds Championship Dog Show ," Gael said.
"They are all very well-credentialled and are known worldwide for their outstanding ability to find breed type throughout their entry, so we hope to attract exhibits from all over Australia."
Entries for the competition are open and close on Tuesday, August 1. Entries for the Baby Puppies section close on Friday, August 18. 
For more information about the competition visit https://www.melbourneroyal.com.au/dogs/
About the Melbourne Royal All Breeds Championship Dog Show
The Melbourne Royal All Breeds Championship Show is one of Australia's largest conformation shows.
With more than 5,000 classes, 3,700 entries and 200 breeds, the All Breeds Championship Show provides the opportunity for handlers to benchmark their breed – from Afghan Hounds to Yorkshire Terriers – on the royal stage. The highly entertaining Action Dog Program tests the abilities and stamina of the most skillful canines and their handlers. With one of the largest prize pools offered in Australia, the 2023 Melbourne Royal All Breeds Championship Show is not to be missed.