Victoria Pavilion proves the perfect place for the CWA AGM and conference
15 Jun 2022 / Melbourne Royal News, Melbourne Showgrounds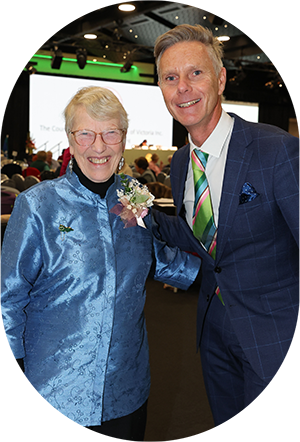 The Country Women's Association of Victoria has helped women, children, families and communities for well over 90 years. They're a resourceful group of women who's hard work benefits people in their local areas and beyond. There are more than 300 branches across Victoria. Each branch maintains its own program and is empowered to meet its communities needs as well as supporting state-wide initiatives. 
The CWA came together for their two-day Annual Conference, annual general meeting (AGM) and dinner at the stylish Victoria Pavilion at Melbourne Showgrounds. 
400 people attended the conference, which was opened by a procession led by a highland piper who stood by for the AGM. Without a thought for what was under his kilt, the attendees got on with the important business of the day that included a talk from Professor Kim Foster about the importance of resilience and an address by the Hon. Mary-Anne Thomas, Minister for Agriculture and Regional Development. 
The Victoria Pavilion was set up by the passionate and talented Melbourne Royal events team to include premium catering and audio-visual needs for the event. There was all the ceremony of an official meeting, and the venue was bright and airy enough for plenty of networking and sharing ideas. Dinner on Friday night included two sumptuous courses and a DJ to inject even more fun into the night. 
Matt Coleman, Melbourne Royal President attended the AGM and Brad Jenkins, Melbourne Royal CEO, opened the Conference by presenting an overview of the new attractions and experiences planned for the 2022 Melbourne Royal Show. 
"The Country Women's Association of Victoria has a special and long-standing association with Melbourne Royal," said Brad Jenkins. "This year they will be back at the Melbourne Royal Show in the CWA café that serves its famous breakfasts, lunches and afternoon teas while raising money for their programs. I can't wait until the first day of the Show on Thursday 22 September to visit the CWA café and enjoy breakfast in the morning and a scone or two in the afternoon." 
Make sure you consider Victoria Pavilion for your next event – it is the most flexible event space in Melbourne.