Victoria's Dandah Distillery declared as one of Australia's best
27 Nov 2020 / Spirits
Dandah Distillery, trading as Yack Creek Distillery, from Yackandandah, Victoria were awarded a slew of trophies and medals, including the coveted Champion Victorian Distiller at the 2020 Australian Distilled Spirits Awards (ADSA), conducted by The Royal Agricultural Society of Victoria (RASV).
The judges awarded Yack Creek Distillery with a total of six medals and two trophies with their Black Strap Rum 002 taking out the Champion Australian Micro Batch Spirit to complement the Champion Victorian Distiller, presented by Victorian Treasurer, The Honorable Tim Pallas.
Located 2km outside of the small north east Victorian town of Yackandandah and nestled amongst the beautiful natural bushland, owner and head distiller, Jamie Heritage aims to create high quality small batch craft spirits that are all produced, fermented, distilled and bottled on site.
This hands-on approach ensures that each batch is unique, with only a limited range (currently up to a maximum 120 bottles) produced for each individual batch.
The natural environment of the region is embedded in their branding and the manufacturing process. The nearby Yackandandah Creek flows all year round, supplying the water for Yack Creek Distillery's distinct range of new-age spirits. The creek is also home to the Murray Spiny Crayfish, whose head is featured prominently in the Yack Creek Distillery branding.
Like many other Australian distillers, Jamie entered the Australian Distilled Spirits Awards to benchmark his products against some of Australia's best. 2020 was no exception, with a record 619 entries from 162 distilleries throughout Australia.
The Awards present distillers, large and small, with the chance to benchmark their products, establish credentials in the Australian spirits industry and for the award-winners like Yack Creek Distillery, to leverage differentiation in the market.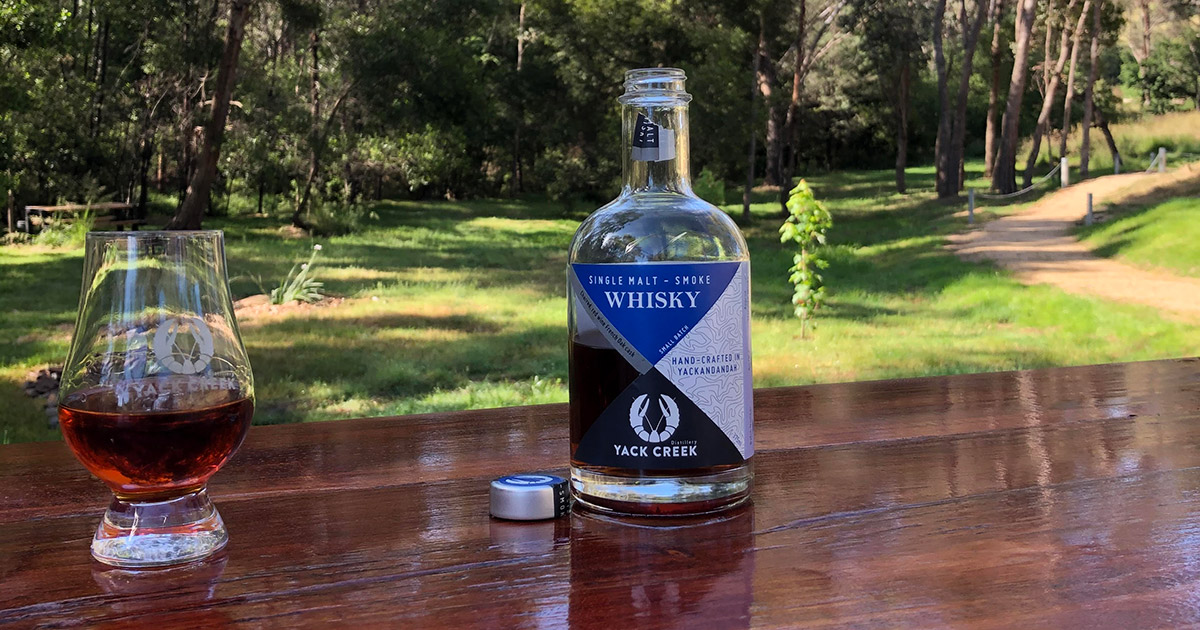 Jamie and his team were thrilled at the collection of medals they received including gold medals for their Black Strap Rum 002 and Smoke Whisky and of course, the incredible achievement of receiving the trophy for Champion Victorian Distillery.
"The win has identified Yack Creek Distillery as a quality manufacturer of small craft spirits" said Mr Heritage.
"This recognition confirms our belief in the products we create and the acknowledgment from the Australian Distilled Spirits Awards judging panel encourages us to pursue our passion for creating distinct small batch craft spirits" concluded Mr Heritage.
The success this year has confirmed Jamie's business philosophy to maintain the distillery as a micro business that will continue to produce high quality unique spirits in limited quantities.
You can buy Yack Creek Distillery spirits at the cellar door opening in December 2020 at The Star Hotel, Yackandandah, or by purchasing online via the following links:
Dandah Distillery, trading as Yack Creek Distillery's 2020 Australian Distilled Spirits Awards results
Champion Victorian Distillery
Champion Australian Micro Batch Spirit - Blackstrap Rum 002
Gold medal - Blackstrap Rum 002 in Underproof Rum category
Bronze medal – Blackstrap Rum 001 in Underproof Rum category
Gold medal - Whisky 004 in Other Smoked Whisky category
Silver medal - Whisky 005 in Cask Strength category
Silver Medal - Whisky 002 in Single Malt Unpeated category
Bronze medal - Gin-Lemon Myrtle in New World / Contemporary Gin category

Business details 
Yack Creek Distillery
231 Bells Flat Road
Yackandandah, VIC, 3749
T: 0409 406 996 (Jamie Heritage)
E: taste@yackcreekdistillery.com.au