Victoria's finest cattle are on a quest to win at the 2023 Melbourne Royal Show
04 Jul 2023 / Melbourne Royal Competitions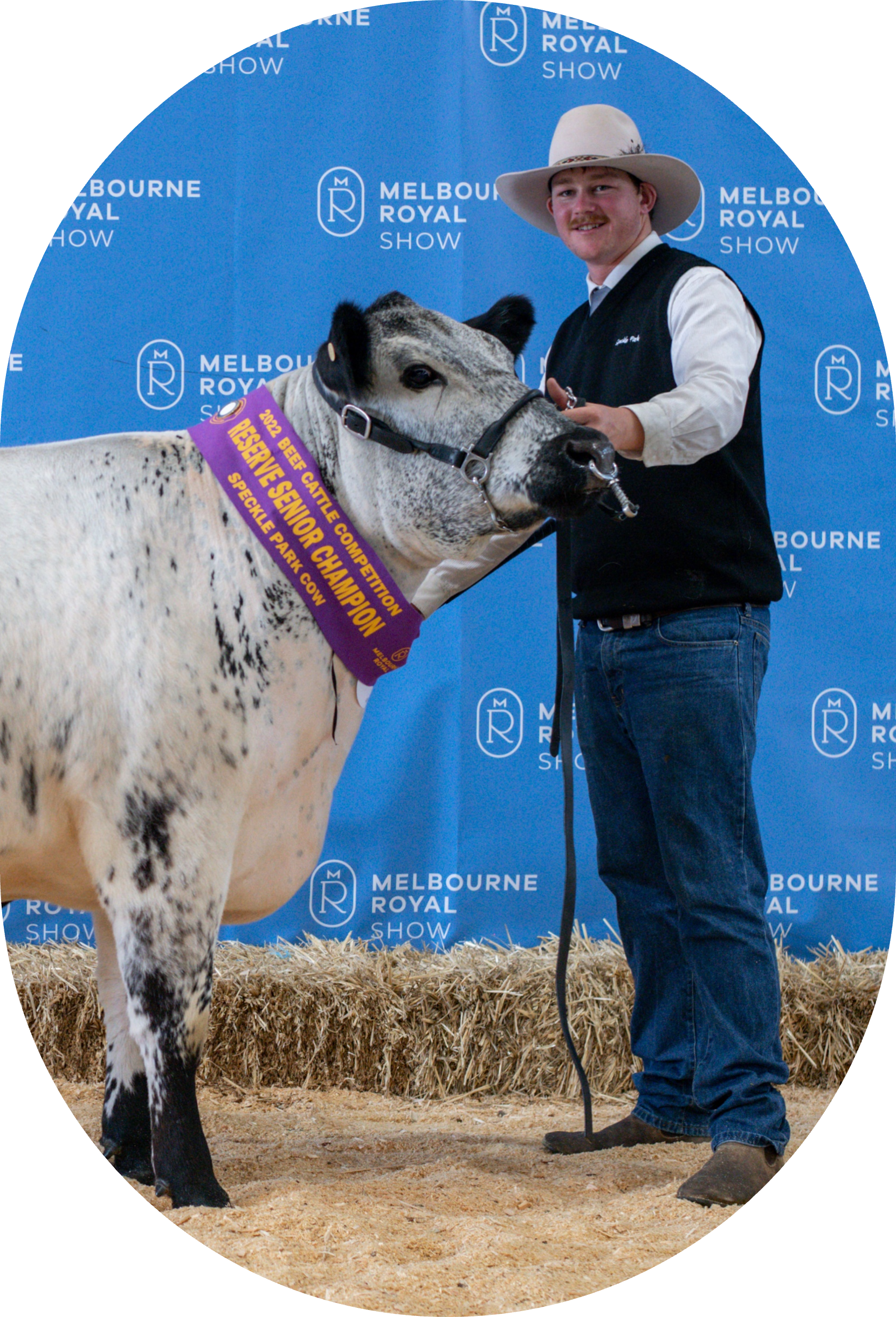 The Livestock Pavilion will be home to the Melbourne Royal Beef Cattle Competition at the 2023 Melbourne Royal Show from Thursday, September 28 to Sunday, October 1, with the pinnacle event, the Beef Interbreed, held on Saturday, September 30.
The 2022 Interbreed sash was won by Mavstar Simmentals, taking out the Supreme Senior Champion Beef Breed Female Award for its two-year old cow with calf-at-foot, Maverick Red Star.
Entries are now open for the Melbourne Royal Beef Cattle Competition, an event that provides exhibitors with the opportunity to showcase and benchmark their livestock in one of Australia's biggest and most prestigious cattle competitions.
All eyes will be on Limousins this year, the feature breed, with additional classes and prizes set to celebrate the breed and the Australian Limousin Breeders' Society marking 50 years of Limousin in Australia and New Zealand.
At just 27-years-old, Murray Vanderdrift from Macorna Limousins, and Black Diamond Speckled Park in Marcona, Victoria is already a seasoned Melbourne Royal Show exhibitor, having shown cattle since grade eight.
This year will be particularly special as the Limousin breeder prepares to showcase the breed's attributes for both exhibitors and the public.
"Limousins have always been renowned for their yield, they're light-boned and they have so much muscle in them that they're the ideal butcher shop calf because they're so lean with absolutely no waste," Murray said.
Limousins originated from France and Murray said Marcona Limousins is one of few to still breed the true French type.
"We probably have one of the larger true French herds in Australia and I just love the extra shape and that true lean muscle carcass that we can get out of it," he said.
Murray has 30 cattle on feed currently and is planning on exhibiting 23 at Melbourne Royal, with Limousins, Charolais, and Speckle Parks making up the team.
Preparation starts well before competition begins. Cattle are being fed on a 100 -110 day grain regime to ensure they're in tip-top condition. Three weeks before the Show, Murray will move all cattle from bigger to smaller pens to let the preening begin.
"We do daily hair care and that's washing every second day; bulls one day and females the other. We wash, rinse, use all the hair care products, and then we also do a lot of leading practice as the show gets closer," Murray said.
"We try our best to be as competitive as possible and put up good cattle that are structurally right, but you have to pick all that even before you put them on feed."
While there's been no shortage of show highlights for Murray, winning two Reserve Championships in 2017 with Black Diamond Speckled Park in his first year exhibiting stud cattle – in the year Speckled Park was the feature breed – won't be forgotten anytime soon.
And although the glory of winning at the state's preeminent show is undoubtedly in Murray's sights, he said the Beef Cattle Committee and the camaraderie with other exhibitors attracts his whole family back, year after year.
"The cattle committee is very strong and very focused on ensuring the competitors are comfortable. The way it's structured and the relationships they have with all the exhibitors is fantastic," Murray said.
"Our family is also very proud of our cattle and getting our product out there. It'll be a real family outing with my grandparents in Melbourne and they'll be there on judging day to cheer us on."
The Melbourne Royal Beef Cattle Competition will be held over five action-packed days, with all seeking the glory of being declared the Melbourne Royal Supreme Beef Champion. Entries close Wednesday, August 2.
About the Melbourne Royal Beef Cattle Competition
Steeped in more than 150 years of tradition, the Melbourne Royal Beef Cattle Competition brings the best cattle and producers together at the Melbourne Royal Show. More than 500 exhibits are displayed and judged over multiple action packed days – all seeking the glory that comes from being declared a Melbourne Royal Supreme Beef Champion. Exhibitors of all ages have an opportunity to interact, mentor and learn, balancing the great tradition of cattle showing with the latest innovations in technology and seedstock marketing.
For more information about the competition visit https://www.melbourneroyal.com.au/beef-cattle/