Winners of the 2022 Australian Distilled Spirits Awards
27 Oct 2022 / Spirits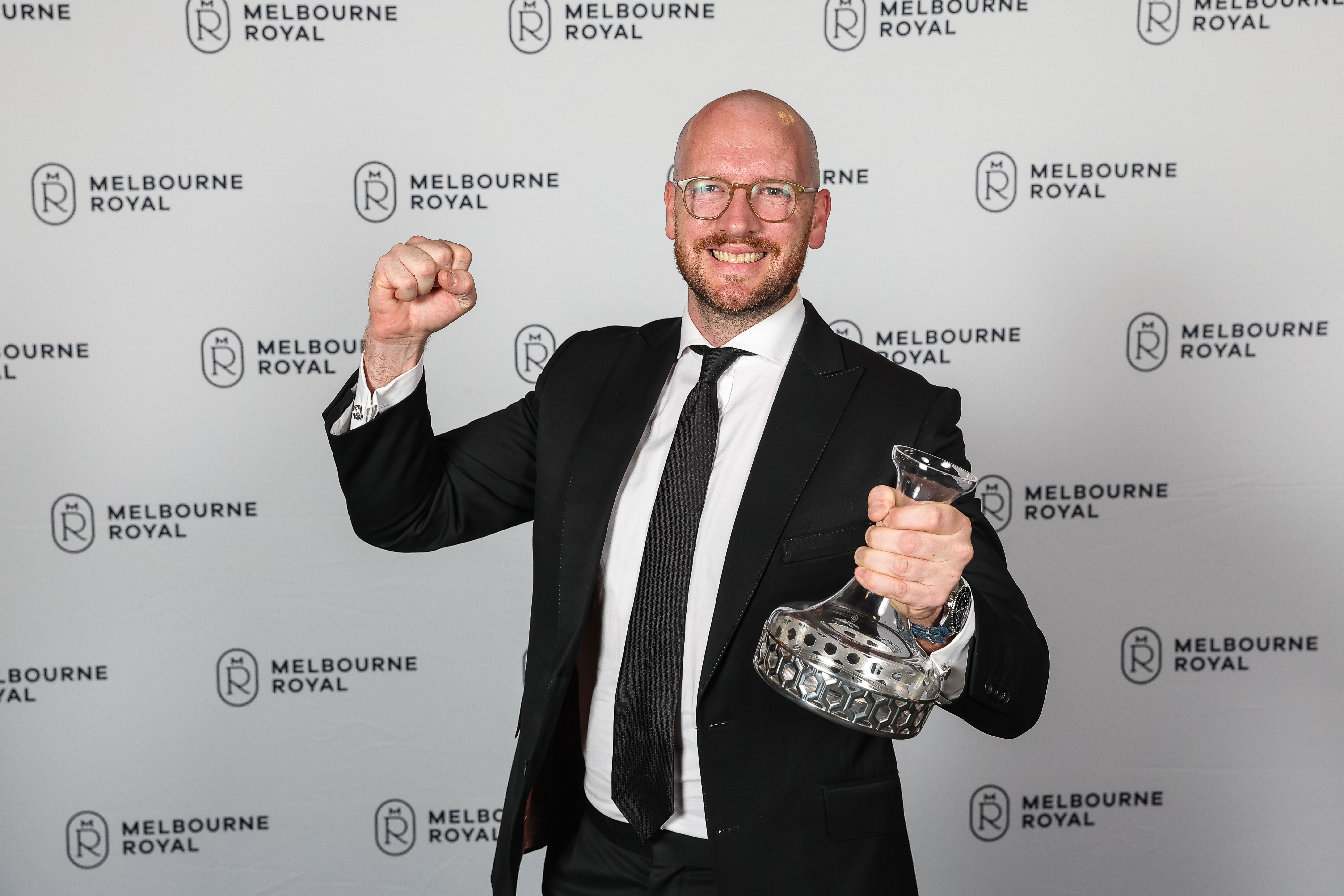 Never Never Distilling Co wins Champion Australian Distiller
Yack Creek Distillery picks up Champion Victorian Distiller
Melbourne Royal announced the trophy winners of the 2022 Australian Distilled Spirits Awards at an impressive cocktail awards presentation held on Wednesday 26 October in the Victoria Pavilion at Melbourne Showgrounds.
Across 11 categories, the 2022 Australian Distilled Spirits Awards attracted 863 Entries from 208 Exhibitors – with a record number of entries in the Whisky and Gin classes.
Sixteen trophies were presented with McLaren Vale's Never Never Distilling Co. awarded Champion Australian Distiller for the third year in a row. The distillery also won Best New World/Contemporary Gin for their Southern Strength Gin.
Victorian distillers took home almost a third of the top gongs, including, Yack Creek Distillery, who won the Champion Victorian Distiller. Established in 2016, the Victorian distillery was brought to life when two friends discussed business opportunities while sitting on a beach in Western Australia. Both had a passion for whisky and rum and decided to explore the possibilities of how they could make their own. Six years on, the distillery produces micro batches for release every year, 
Eltham's Naught Distilling took out Champion Victorian Gin with their Naught Sangiovese Gin, bursting with vibrant red fruits and seductive spices. It is created by infusing premium Sangiovese grapes with their Australian Dry Gin.
The biggest growth for 2022 is in the Whisky and Gin categories, with Whisky up to 131 (from 88 in 2021) following the introduction of a new Whisky trophy, and Australian Distilled Gins up to a whopping 431 (from 388).
Backwoods Distilling Co, family owned and operated in Yackandandah, won the Best Single Malt Whisky for their White Oak Expression.
Rye based Penni Ave Distillery won Best Vodka with their Wattle Seed and Burnt Honey Vodka, distilled with Pure Peninsula Orange Blossom honey and roasted native wattle seed.
Best Liqueur went to Kilderkin Distillery in Mount Pleasant for their Larrikin Bramble and Apple Pie Gin Liqueur.  The star of this liqueur is the syrup, made with Pink Lady apples cooked with nutmeg.
The SA winners continued with St. Agnes Distillery winning Best Brandy with St Agnes XO, a 15-year-old brandy with aromas of stone fruits and citrus.
Fleurieu Distillery in South Australia took home the Best Grain or Blended Whisky for their Country to Coast 3.
Ginny Pig Distillery based in Tooperang, South Australia won the Best London Dry Gin for their Botanic Gin. Husband and wife team, Bec and Craig, run the distillery on their own property. Last year, they were awarded a Gold Medal for their London Dry Gin.
NSW distillers took home three awards, including Camden Valley Distilling Company for Best Other Gin with their Camden Valley Sloe Gin.
Regal Rogue in New South Wales won Best Vermouth for their Lively White, Semi-Dry, giving notes of elderflower, lemongrass, grapefruit and chamomile.
Best Bitter went to Inspirited in New South Wales for their Convicted Aromatic Bitters, handcrafted using native Australian botanicals.
WA distillers picked up two awards, including Great Southern Distilling Company in Robinson, winning the Best Navy Gin with their Giniversity Southern Ocean Gin, with botanicals juniper, spinach and citrus being present.
The Packing Shed Distilling Co. in Western Australia won the Best Alternative Spirit with their Limoncello, made with locally grown lemons combined with lemon myrtle to give the perfect Australian twist.
Established in 1888, Bundaberg Distilling Company in Queensland won the Raymond B 'Spike' Dessert III Trophy for Best Rum with their Bundaberg Rum: Master Distiller's Collection- Small Batch Reserve.
Melbourne Royal CEO, Brad Jenkins said, "The Australian Distilled Spirits Awards is regarded as Australia's first and largest national award program that proudly recognises the long tradition of distilling in Australia, and the emergence of the new generation of spirits."
"Medal and trophy winners in the 2022 Australian Distilled Spirits Awards now have  unique and valuable opportunities to leverage their success and market medal-winning products using the Melbourne Royal seal of excellence."
"With such an outstanding quality of exhibits, we were thrilled to award 75 gold, 382 silver and 311 bronze medals. Over 11 categories, the 2022 Australian Distilled Spirits Awards attracted 863 entries from 208 exhibitors, with a record number of entries in the Whisky and Gin classes." 
42 judges assembled at Melbourne Showgrounds to critique and provide commentary on each of the entries. The panel was led by head judge Seb Costello, the Australian spirits ambassador and former owner of Melbourne bar Bad Frankie.
Seb led a highly regarded panel of judges who were selected for their product knowledge and expertise in industry and include distillers, spirits writers, bar owners, and retailers. "The Australian distilling industry is a close network of people, and events like the Australian Distilled Spirits Awards provide a wonderful opportunity for us to come together, collaborate and share our knowledge and experiences," Seb explained.
For more information visit  www.melbourneroyal.com.au/spirits
Champion Australian Distiller
Never Never Distilling Co, South Australia
Champion Victorian Distiller
Yack Creek Distillery, Victoria
Best Single Malt Whisky
White Oak - Backwoods Distilling Co, Victoria
Best Grain or Blended Whisky
Country to Coast 3 - Fleurieu Distillery, South Australia
Best London Dry Gin 
Botanic Gin - Ginny Pig Distillery, South Australia
Best New World / Contemporary Gin
Southern Strength Gin - Never Never Distilling Co, South Australia
Best Navy Gin
Giniversity Southern Ocean Gin - Great Southern Distilling Company, Western Australia
Best Other Gin (Not LD, NW or Navy)
Camden Valley Sloe Gin - Camden Valley Distilling Company, New South Wales
Champion Victorian Gin
Naught Sangiovese Gin - Naught Distilling, Victoria
Best Vodka
Wattleseed & Burnt Honey Vodka - Penni Ave Distillery, Victoria 
Best Brandy
St Agnes XO - St Agnes Distillery, South Australia
Raymond B 'Spike' Dessert III Trophy for Best Rum
Bundaberg Rum: Master Distillers' Collection - Small Batch Reserve - Bundaberg Distilling Company, Queensland
Best Liqueur
Larrikin Bramble and Apple Pie Gin Liqueur - Kilderkin Distillery, Victoria
Best Alternative Spirit
Limoncello - The Packing Shed Distilling Co, Western Australia
Best Bitter
Convict Aromatic Bitters - Inspirited, New South Wales
Best Vermouth
Lively White, Semi-Dry - Regal Rogue, New South Wales