Young cattle breeder takes out esteemed leadership award at Melbourne Royal Show
08 Nov 2022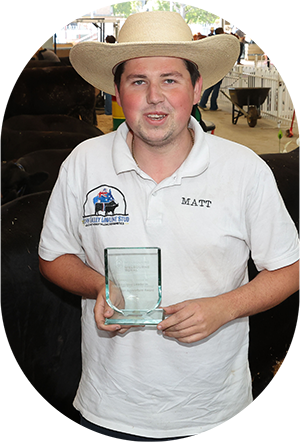 At just 24 years of age, Matt Cooney is already making his mark on Australian agriculture, and it hasn't gone unnoticed. He's setting a high bar through his love of Lowlines.  
The principal of Cann Valley Lowline Stud was awarded the Melbourne Royal Emerging Leader in Victorian Agriculture Award (ELVA) at the 2022 Melbourne Royal Show.  
Recognising an individual who is making a significant contribution to their respective agricultural field over a 12-month period, the award also saw Matt collect $5000 to further his development, and the opportunity to work with the leadership team at Melbourne Royal Show to mentor other young, rising individuals in the agriculture industry.  
Matt was nominated for the award by a fellow Australian Lowline breeder for his innovative work in establishing the Lowline breed overseas; his efforts in improving connectivity for regional farmers through his position as manager of an Optus store in Shepparton; promoting the Lowline breed through his role of treasurer of the Southern Region Promotion Group (Victorian Lowlines); and his unwavering dedication to hosting the Feature Breed event at the 2022 Melbourne Royal Beef Competition. The event attracted the most entries seen in more than a decade, with half the competitors first-time exhibitors at Melbourne Royal Show.  
Matt topped off a successful week with a personal high, selling a Lowline heifer at the Royal Rumble All Breeds Sale for a record-breaking $11,000. While the young cattle breeder doesn't do it for the glory, the recognition gained from the ELVA award is valued – and the chance to support others even more so.  
"It's really validating to know that you've made a difference in the agricultural industry as a whole," Matt says.  
"It's so important that people nominate others because there's so many quiet achievers doing amazing things for Australian agriculture and we need to know about them. 
"I'm so passionate about mentorship and leadership for young people because we need them, we won't have an industry without them. I'm really focused on recognising up-and-comers and helping them however I can." 
Without the mentorship of others, Matt openly acknowledges he wouldn't be where he is today. His aunt, Vicki Gilbert changed his path when she opened her home to the then 13-year-old from Melbourne's busy eastern suburbs, welcoming him to Rotherwood Lowline stud in East Gippsland. More than 10 years on Vicki is still a valuable mentor for Matt, along with Melbourne Royal Show Beef Cattle Committee chair David Bolton. 
Matt has big plans for his ELVA winnings, starting with exporting the sustainable, feed efficient Lowline genetics overseas. The initiative has been in the works for 12 months, and while it's a costly process, Matt's buoyed by calves already born in Belgium, France and Germany, and semen and embryos currently en route to the United States.   
Back on home soil Matt is eagerly anticipating an exciting 12-months ahead, utilising his newfound position as a mentor for other young people in the agricultural industry – starting with David Bolton's words of wisdom.  
"He always says you're only as good as those around you, and I wholeheartedly agree," Matt says. 
"I'm looking forward to sharing my knowledge with others because after all, if a kid originally from the city, on just 30 acres today can do it, nothing's impossible."