Mr Alf Woods
Stepping into his first Melbourne Royal Show as a child was like being given the keys to a 'land of wonder'.
A spring chicken at heart, Alf Woods lays claim to a near century in the poultry pavilion. 
The sideshows, the stalls, the delicious food, the livestock - it was all an adventure. But it's the poultry pavilion that captured his heart and still does today at the age of 94. 
Hailing from Greenvale in Melbourne's north, Alf recalls how as a seven-year-old he thought he was the most important person at the show as he hitched a ride on his uncle's dairy cart, delivering milk to the various stalls. 
As his duties came to an end, Alf wandered into the poultry pavilion to find the family's entries and became so engrossed his father was eventually called to come and find the missing youngster. For Alf, his family history was interwoven in those pavilion walls. 
"My grandfather Alfred was secretary of a committee of eight poultry people that convinced the RASV to build a poultry pavilion at a cost of 6000 pounds and it was opened in 1919," Alf says.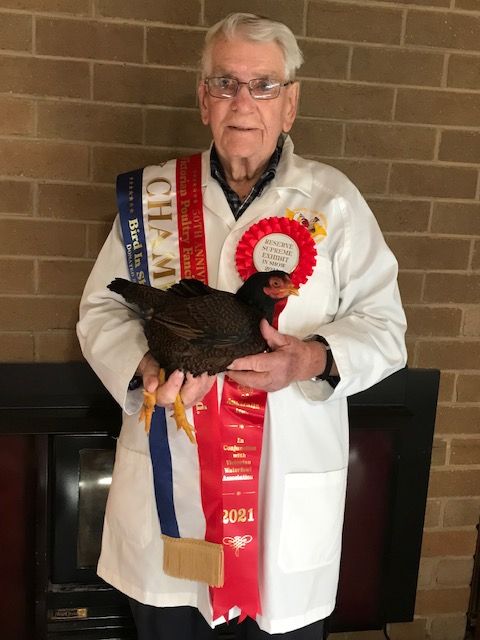 "I am fortunate that like my grandfather, my father and myself, my daughter, my grandson and now my great grandson also exhibit at the Royal."
Alf reached the top of the pecking order when he won Best Old English Game at the Melbourne Royal Centenary Show. Fifty years later at the bicentennial show he won Best Old English Game with a bantam. 
"I think the second century show will be a bit too far away at the age of 94," Alf chuckles. 
Having been awarded the President's Medal - only the second time a poultry exhibitor has had this honour - and been a part of the Australian Poultry Standards committee that compiled the first Australian Poultry Standard and now Chairperson of the committee, there's not many boxes Alf hasn't ticked in the poultry world.  
Nearly 90 years on from his first Melbourne Royal, Alf is still just as excited as ever to chat all things chooks with his fancier friends. 
"I look forward to the yearly gathering of poultry fanciers at the Royal where we get to gather and talk of the great past and an evergreen future ahead of the poultry fancy."