Chief Executive Update - March 2022
11 Mar 2022 / Melbourne Royal News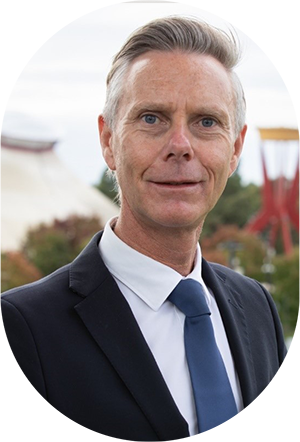 I am pleased to advise that the Federal Minister for Agriculture, the Hon. David Littleproud MP announced today (Friday 11 March) that the Morrison-Joyce Government is providing $3.2 million to the Melbourne Royal Show under Round 2 of the Supporting Agricultural Shows and Field Days program to support costs incurred from the cancelled 2021 event.  
Click here to view the Media Release.
Matt Coleman, Melbourne Royal President, Kate O'Sullivan, Melbourne Royal Director and I had the great pleasure to attend the announcement and meet with Minister Littleproud and personally thank him for his support.  
We are most grateful to the Federal Government and in particular Minister Littleproud for the funding support and for recognising and valuing the ongoing economic, social and community benefits of agricultural shows, in particular the Melbourne Royal Show.  
With this funding support from the Federal government, we can now confidently plan and look forward to presenting a highly successful 2022 Melbourne Royal Show from 22 September to 2 October at Melbourne Showgrounds.  
The countdown is underway with just six months until the opening day of the Show and interest and enthusiasm is building. I am pleased to advise that expressions of interest for exhibition space are open, and entries will open soon for Melbourne Royal competitive sections including: Beef Cattle; Sheep; Dairy Cattle; Alpacas; Art, Craft and Cookery; Dogs; Horses; Woodchop; and Poultry. 
This year we will welcome the return of the Poultry competition and exhibition for the entire 11 days of the Melbourne Royal Show and I thank our Poultry Committee for their enthusiasm and support of this initiative.  
A significant factor in Melbourne Royal's success over the past 174 years has been the volunteers who have generously provided their valuable time, support, and expertise to be involved in Melbourne Royal Competition Committees and Industry Advisory Groups. It is fabulous to see interest in being involved with the Melbourne Royal is as strong today as ever before. Pleasingly this month alone we have seven new additions to our Melbourne Royal Competition Committees and Industry Advisory Groups and I congratulate and thank each of them for their interest and enthusiasm to be involved. 
Our Emerging Leaders Group is kicking goals and this month is proudly presenting the Australian Young Farmer Challenge Victorian State Final at Farm World 2022, Lardner Park. We are also looking forward to our Melbourne Royal Emerging Leaders presenting an Agri-chat forum on Pathways into Dairy: Raising Aspirations in Agriculture during Farm World.  
The Board and management of Melbourne Royal were very saddened to learn of the recent passing of Bob Bell. Bob generously donated his time volunteering as a steward, joining the Dog Committee in 1993 and in 1997 was appointed Chair of the Dog committee, a position he held for 16 years. Bob was recognised as a Councillor in 1995 and awarded Honorary Life Membership in 2015 in recognition of his service and contribution to Melbourne Royal. We were fortunate to have Bob as a wonderful advocate and supporter of the Melbourne Royal Show and the All Breeds Championship Show. On behalf of the Melbourne Royal community, I extend my sincere condolences and deepest sympathy to Bob's family and friends, in particular his wife Jennifer. 
It great to see people onsite enjoying events and exhibitions again at Melbourne Showgrounds. Supanova Comic Con & Gaming was one such event that was successfully held at Melbourne Showgrounds and it was fabulous to have more than 15,000 people attend over the two days. The colour, the excitement, the energy and costumes were all fabulous. Well done to the event organisers. 
Pleasingly, we have a busy schedule of events and exhibitions coming up at Melbourne Showgrounds in the coming weeks, in particular we have Meatstock, the music and barbecue festival on 26-27 March and the Caravan and Camping Super Show on 6-10 April. Melbourne Royal is looking forward to working with the respective event organisers to ensure these events and exhibitions are successful for all involved.   
Our membership year ends 31 March and I sincerely thank those of you who maintained your Melbourne Royal membership this year, despite the Show not proceeding. We are most grateful for your support.  
As we begin to commence a new membership year we would very much appreciate and value your support by becoming a valued member for the 2022/23 year. Membership is extraordinary value and offers you access to a range of exclusive membership benefits including admission for you and a guest to the Melbourne Royal Show with access to premium hospitality areas. Growing our membership is more vital than ever this year and I encourage you and your family and friends to become members. More information regarding the great value of Melbourne Royal membership, will be available on the website soon. 
I trust you will enjoy reading the other articles in this edition of Melbourne Royal News. 
Brad