Melbourne Royal Agricultural and Leisure Competitions
14 Mar 2023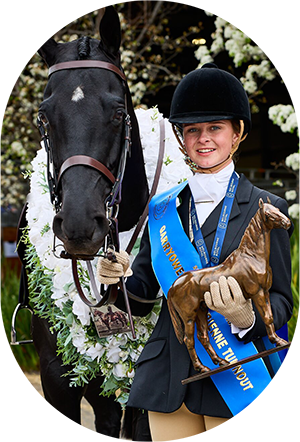 The countdown is underway with just six months until the opening day of the 2023 Melbourne Royal Show and interest and enthusiasm is building. There is nothing like the thrill and excitement of winning a coveted Melbourne Royal blue ribbon and in 2023 it will be even more special with commemorative ribbons and prizes being presented in celebration of 175 years of Melbourne Royal. 
Entries open soon for competitive sections including Beef Cattle; Sheep; Dairy Cattle; Alpacas; Art, Craft and Cookery; Dogs; Horses; Woodchop; and Poultry.  
Enhanced competition entry portal 
Melbourne Royal has implemented a number of refinements and enhancements to the online entry portal in response to feedback last year from exhibitors. The enhancements made provide for a more user-friendly experience in entering Melbourne Royal competitions.
Juniors' time to shine! 
Schools' Poultry Competition 
Melbourne Royal School's Poultry Competition entries are open.  
This competition allows development of new skills, encourages responsible behaviour and inspires new interests and career options amongst Victorian students.  
The Schools Egg Laying Competition, conducted by Melbourne Royal, gives students a hands-on experience raising and caring for young poultry, giving them an insight into what is required of producers in the modern commercial poultry industry. 
Entries close 7 April.  
Enter here. 
Melbourne Royal's Art, Craft & Cookery Junior Preview Schedule is now available.  
The next generation of Victorian makers and creators are encouraged to begin preparing for the Melbourne Royal Art, Craft & Cookery Competition.  
This year, the process is even easier for teachers to enter their students. Lesson planning webinars linked to the VCAA curriculum are available for you to find the right creation for your students, plus receive a discount on entries fees if you enter a whole class! 
Learn more here. 
Once a year, the cream of the crop from the state comes together to battle it out for the title of 'Victorian Young Farmer Challenge Champions". 
This year, the Young Farmers Challenge will be held during the 'Youth in Ag' weekend – the first weekend of the Melbourne Royal Show. Currently, there are state qualifiers popping up around Victoria in preparation for the state final, with competitors facing the ultimate test of skill and ability. 
Last year's winners, the Wade Family of Stratford, have gone on to compete at national level, as they prepare for this year's Hobart Show. With 2023 being the second year of running this event, Melbourne Royal hopes to increase its numbers from last year's 6 teams.  
Learn more about Melbourne Royal's Emerging Leaders initiatives here.