Blue Ribbons to Balaclavas - The Red Cross Division Competition at the Royal Melbourne Show
In 1916 Women's Industries (now known as Art, Craft & Cookery) introduced the Red Cross Division competition within the traditional needlework and cookery competition. Following the guidelines stipulated, women competed by creating items from the Red Cross Booklet. From knitted balaclavas and Dutch heeled socks to mittens and a 'novelty for the prevention of frostbite', women industriously submitted entries.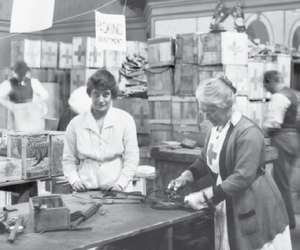 The introduction of a 'comforts' section mirrored the mobilisation of a nation at war. Women turned from creating fancy work to channelling their time and talents into the production of much needed utilitarian articles or comforts (clothing and personal effects not issued by the AIF). As a report of the 1916 Show noted: 'Entries in all sections are considerably fewer than at previous shows … fancy work … has been abandoned until peace returns once more.'
(Leader 30/9/1916)
Across the nation, women were galvanized into action producing items for the troops and a Red Cross Section was similarly included in the 1916 competition at the Queensland Annual Show.
The Red Cross Division remained a patriotic subset of the Women's Industries competition at the Royal Melbourne Show for three years from 1916 to 1918 and attracted steady interest.
Blue Ribbons to Balaclavas pays homage to the tens of thousands of volunteers who made garments and comforts for the troops.