Edie and the Cupie Doll - A Stott Family Tradition at the Royal Melbourne Show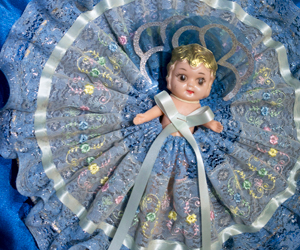 Edith (Edie) and Lindsay Stott opened their first toy and novelty stand at the Royal Melbourne Show in the mid 1940s. Together with the windmills, spiders, skeletons and monkeys for sale, Edie began hand making beautifully decorated and dressed cupie dolls.
Edie made the dolls at home, sewing the various dresses from fabric scraps, lace and ribbons while Lindsay did the glittering and attached wings and hats. Creating cupie dolls is very labour intensive involving 12 different processes - and Lindsay invented time saving tools to assist in the production of the dolls. Edie worked all year round with a concerted effort closer to Show and family members recall the sunroom filled with cupies hanging from wires.
Edie created many styles of dresses to fit the different sized cupie dolls, ranging from tiny dresses to large circles of beautiful lace. The early dolls were attached to curved bamboo crooks and these colourful cupies on sticks became a popular fixture at the Show. Edie's dolls attracted a loyal following and many visitors have fond memories of purchasing them. Over the years, Edie and Lindsay's five children, along with family and friends, helped in the production of the dolls.
In 2000, after 50 years of involvement, Edie and Lindsay passed the business on to their eldest son and his family. While materials may have changed, the Stott family have continued to hand make beautiful cupie dolls following the traditional processes and techniques developed by Edie. Each year the 'doll army' is dressed and assembled in the family lounge room. Now it's Edie's grandchildren who are making the dolls.
Edie Stott passed away aged 90 in June 2016 but her legacy lives on in the sought after cupie dolls for sale at the Royal Melbourne Show.