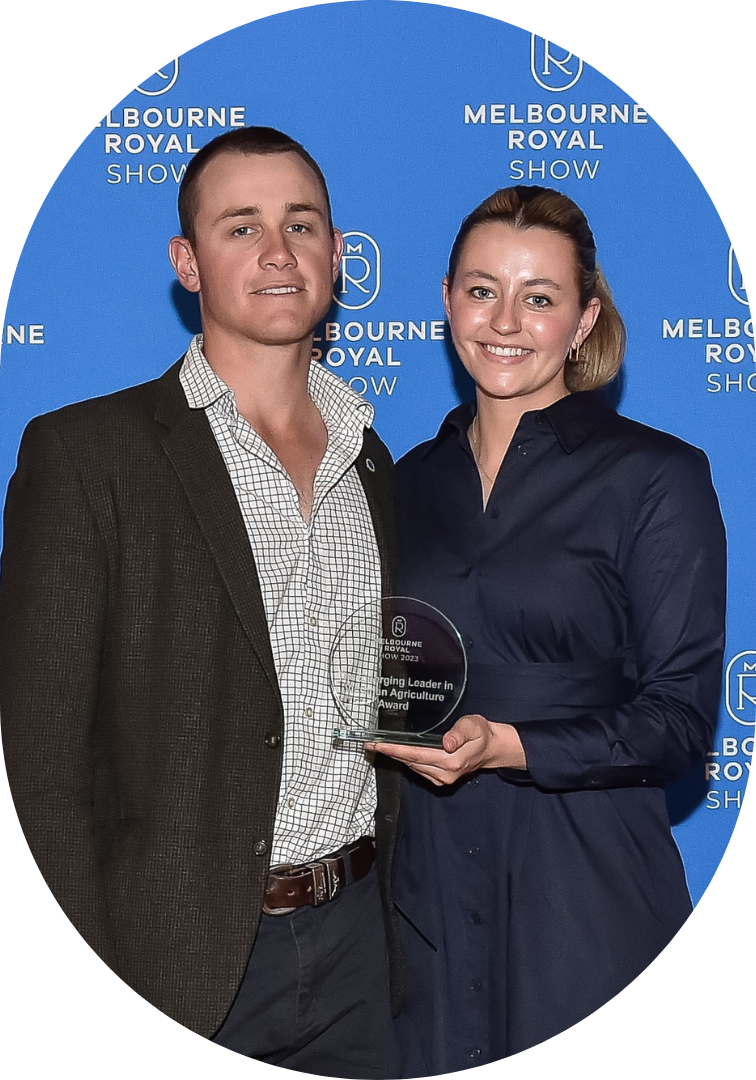 Emerging Leader in Agriculture Victoria - Aimee Bolton
Melbourne Royal Launches Emerging Leader's Impressive Ag Career.
Aimee Bolton was introduced to her first meat processing facility 10 years ago via the Melbourne Royal Show. Now, she's won the Emerging Leader in Victorian Agriculture Award for her contributions to the industry through her role with JBS Australia, Australia's largest meat and food processing company.
The Melbourne Royal's Emerging Leader in Victorian Agriculture Award shines a spotlight on individuals who have dedicated their time, efforts, and expertise to the agricultural field over a span of 12 months.
In her capacity as Farm Assurance and Supply Chain Manager at JBS Australia, Aimee plays a pivotal role that extends throughout the entire supply chain, from farm gate interactions to the intricacies of meat processing and marketing.
Her profound satisfaction in her role stems from a commitment to transparency within the supply chain, a quality often sought after by farmers who may perceive meat processors as enigmatic figures within the industry.
"I think what most farmers appreciate is just a bit of transparency," said Aimee.
"I pride myself on providing them with insights into the broader market dynamics influencing farm gate prices, and this is where a lot of my job satisfaction comes from."
Aimee's roots lie in Shepparton, Victoria, where her family operates a small herd of Black and Red Angus Cattle. Her upbringing immersed her in the world of Angus cattle, and her subsequent experiences at school and university ignited her passion for the commercial side of the industry.
"Through school, I studied a Cert 3 and 4 in Agriculture via distance education. In 2016, I pursued a Bachelor of Ag Business Management at Wagga Wagga, which sparked my interest for the industry's commercial side and the customer space," Aimee explained.
A pivotal moment in her educational journey led Aimee to Texas, where she was selected to study meat science at A&M University. Upon graduating, she ventured to Queensland to begin working in the beef industry.
Reflecting on her experiences with the Melbourne Royal Show over the years and the opportunity it provided her to first be exposed to a processing facility a decade ago – JBS Abattoir – Aimee described it as a "full circle" moment.
"I feel really happy to have had such a good journey with the Melbourne Royal, and it feels special that I've had a lot of involvement with them, judging and volunteering in the carcass competition for about 10 years now," she said.
Aimee's experiences and achievements serve as a testament to the possibilities that lie ahead for emerging leaders in Victorian agriculture. Her enduring commitment to the Melbourne Royal Show and her role at JBS Australia showcase the importance of industry engagement and hands-on experiences in shaping the leaders of tomorrow.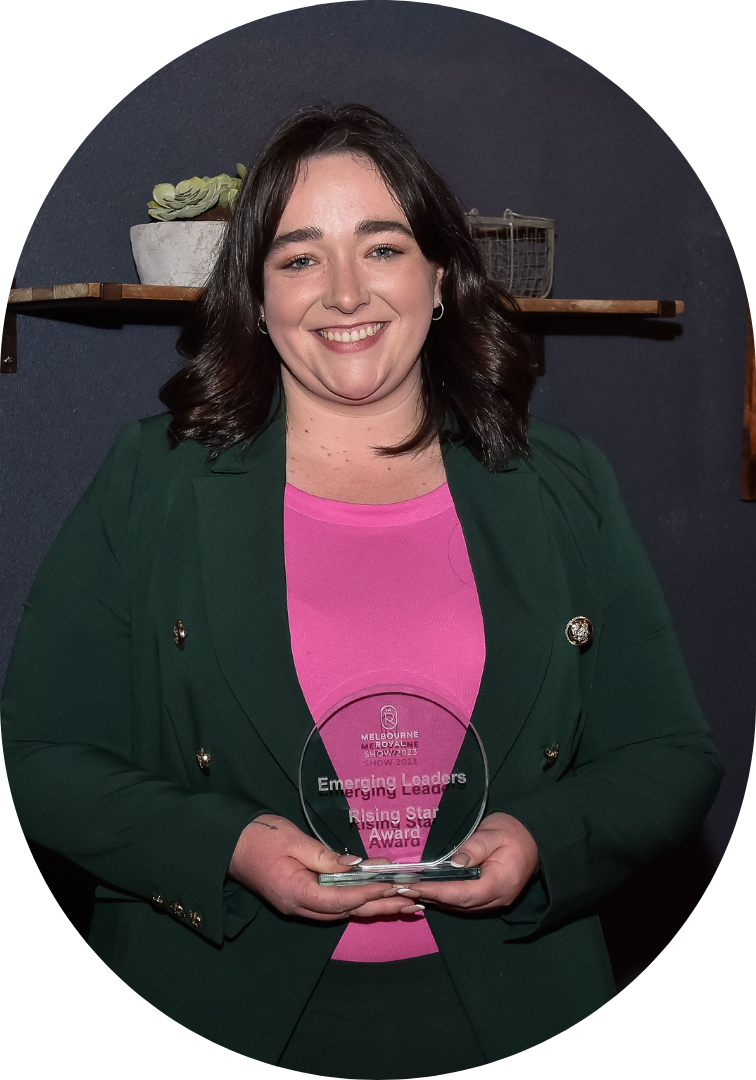 Melbourne Royal Rising Star Award - Giorgi Boucher
Giorgi shines as a rising star in Victorian agriculture
The Melbourne Royal Rising Star Award is the gold standard for young go-getters leaving their mark on agricultural shows in Victoria.
Giorgi Boucher, a passionate advocate for agricultural shows and a dedicated mover and shaker for her local Cohuna Show, has won the prestigious accolade.
Giorgi's passion for agricultural shows began as a school student, showing beef cattle for a number of studs in her hometown of Warragul.
As she continued to move across the state, she actively sought out committee roles and volunteering opportunities.
"Each time I moved, I'd say, 'where's the show, where's the committee, get me on it," said Giorgi.
Before moving to Cohuna, Giorgi was actively involved with the Pakenham Show, making her way through the Rural Ambassador program there, before earning runner-up at state level in 2018.
Giorgi has also been the driving force behind the Cohuna Young Farmer's Challenge, where she has been successful in growing the competition to an event the entire community gets behind.
Her enduring commitment to the industry and her desire to keep learning and contributing eventually led her to be elected as secretary of the Cohuna Show.
"I put my heart and soul into the shows and I have for a long time," Giorgi said.
"When I wrote the application for the Melbourne Royal Rising Star Award I remember thinking that I just do what everyone else does and that there was no way that would put me aside, but it just concretes that what I'm doing is significant and valued within the community."
Giorgi's recognition by Melbourne Royal has not only brought her excitement but stirred the entire Cohuna community.
"The Melbourne Royal has been such a significant event on my calendar for the last ten years, so I'm very thankful that they acknowledge and appreciate my contributions," said Giorgi.
"What's great is that it's not just me getting excited about it, it's the whole town."
Giorgi's aspirations extend beyond the Cohuna Show. As part of the Rising Star Award, getting involved with the Melbourne Royal Show committee as an intern is an exciting opportunity. Giorgi is looking forward to gaining insights into the organisation and using that knowledge to further advance the Cohuna Show.
Giorgi's story exemplifies the essence of the Melbourne Royal Rising Star Award – recognising and celebrating individuals who are not just the future of the AgShow movement, but are also the heart and soul of the agricultural community in Victoria.
Her advice to other rising stars in the arena? "Get out there, have a go and find what lights your fire."