Exclusive medal offer
Help your wine shine!
Congratulations to the Melbourne Royal Wine Awards Winners.
As a sponsor of the Melbourne Royal Wine Awards, MCC would like to show their further support for all 2023 award winners by offering trophy, gold, silver and bronze medal types for purchase at the special price of $60.00/1,000 medals plus G.S.T. – minimum order of 1,000 lots per kind required.
If you would like to place an order, please complete the sections on this order form and place orders directly with MCC.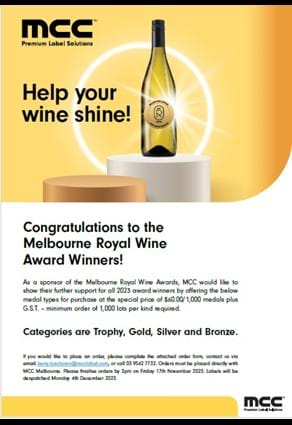 Please finalise orders by 3pm on Friday 17/11/2023. Labels will be dispatched Monday, 4th December 2023.
Scan (or take a photo) of the order form and email to: kerry.loschiavo@mcclabel.com
For all your label needs, please contact the Victorian Multi-Color office on (03) 9542 7777 or visit the MCC Website.